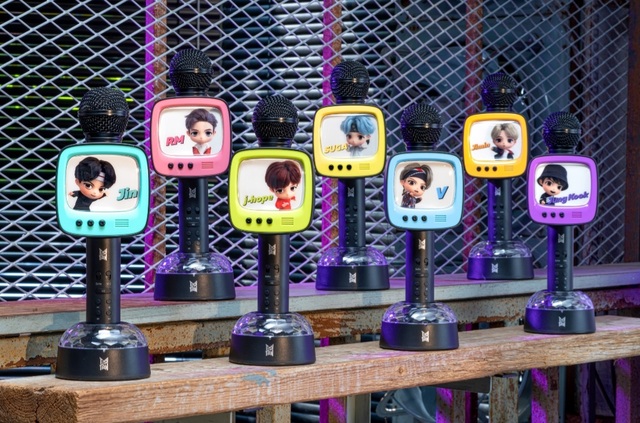 E-Mart24 announced on August 26th that they would sell 1000 sets of limited edition BTS character TinyTAN Bluetooth microphone speakers until September 9th.
This is a product designed for 'Home Ludens,' who enjoy their hobbies at home due to COVID-19.
This microphone, sold in collaboration with WI, is a licensed product of 'TinyTAN,' a character featuring seven BTS members.
Each BTS member character is designed in 7 different colors. You can sing while playing music. A light-emitting diode (LED) mirror ball that responds to the music beat is added to the cradle that charges the microphone.
If you purchase two BTS microphones, there is a 'dual pairing' function so that you can sing a duet. The speaker is equipped with a surround function. You can use it up to 10 hours after 3 hours of charging. The price is 69,000 won per set.
Sales of 'Home Ludens' related products are on the rise amid the prolonged COVID-19 outbreak.
At E-Mart24, the number of popcorn products enjoyed while watching video service (OTT) increased in the first half of this year. Also, the sales of alcoholic beverages also increased due to the home drinking trend.
'Watcha Popcorn,' which this convenience store introduced in June, sold out 50,000 within a month of its release. This product includes free use of the video service (OTT) 'Watcha.'
Sales of liquor increased 2.6 times (169%) from January to August 24 of this year compared to the same period last year. Sales of wine (137%), beer (34%), and soju (43%) also grew together.
Read More About: BTS Ranked First On The US Billboard's 'Artist 100'
2021 kpop news
,
2021 kpop updates
,
BTS
,
BTS Army
,
BTS News
,
BTS today
,
bts trending
,
BTS UPDATES
,
BTSTREND
,
Group BTS
,
KPOP
,
Kpop 2021
,
Kpop artist
,
Kpop artists
,
KPOP BTS
,
Kpop idols
,
Kpop news
,
Kpop recent news
,
Kpop trend
,
Kpop trending
,
KPop trending news
,
Kpop trending now
,
kpop trending update
,
Kpop_BTS
,
KPOP2021
,
Kpopall
,
KPOPIDA
,
KPOPNEWS
,
Trending
,
trending 2021
,
trending kpop
,
Trending Kpop news
,
trending kpop update
,
trending news
,
trending update kpop