"K-Pop for the Earth" (Kpop4Planet, K-Pop4Planet), a climate action led by K-pop fans, started its activities in earnest. The 26th United Nations Conference on Climate Change (COP26) took place in the UK in November this year. Together with fans worldwide, they will speak out, calling for a response to the climate crisis. BTS, Blackpink, and EXO fans participated.
On March 3rd, K-Pop 4 Planet opened its official website. They said, "A platform where K-pop fans from all over the world can learn about and discuss the climate crisis. And participate in action for climate justice, transcending race, gender, and belief."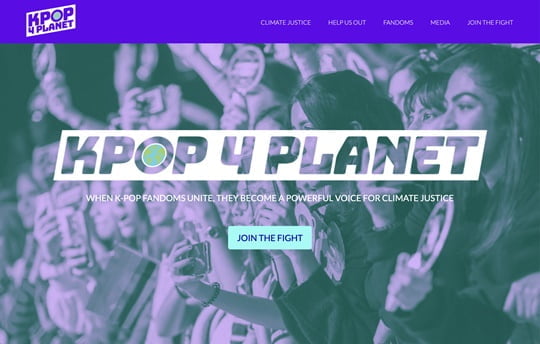 Also, they are planning to exert the good influence that K-pop artists and fandoms have been pursuing in the climate field. And to cooperate with various fans, focusing on the future-oriented actions for governments and many companies worldwide.
K-pop fans around the world already began to join Climate campaign activities on KPOP 4 PLANET. Blackpink was entrusted as an ambassador of COP26. They released a video to raise climate awareness on the 5th anniversary of the United Nations Framework Convention on Climate Change.
Recently, Seventeen fan club Carat celebrated the 6th anniversary of Seventeen's debut. They raised funds to restore the forest burned down by wildfires in Gangwon-do. Fan clubs such as BTS ARMY, Blackpink Blink, and EXO L have donated money. This is for the flood and typhoon impacted residents in Thailand (2019), India (2019) Philippines (2020), and Indonesia (2021).
Last year, Indonesian K-pop fans criticized a Korean company known to have destroyed large-scale rainforests in Papua. And launched a corresponding hashtag campaign on Twitter.
The participation of K-pop fans, especially BTS Army, Blackpink Blink, and EXO L, is remarkable in wildlife conservation and biodiversity conservation activities. So, the reason why K-Pop 4 Planet announced its start on "World Wildlife Day" because fans already know and act on this issue.
According to the Ministry of Foreign Affairs, as of 2019, 1,799 K-Wave clubs were formed in 98 countries worldwide. So, the total number of members reached 99.32 million. In response, Nurul Saripa(owner of Kpop4Planet) said, "If about 100 million K-wave fans participate in the climate action together, we will be able to produce a stronger voice than any other group.
Meanwhile, K-Pop 4 Planet is officially supported by the Korean Association of the United Nations Global Compact. Secretary-General Seok-beom Park said, "We are pleased to support the creative campaign launched to raise awareness of climate change with K-pop fans around the world. I believe it will be an opportunity to lead."
Then, COP26, the British Embassy in Seoul, working with Blackpink, also delivered a welcome message. British Ambassador Simon Smith said, "To save the planet for future generations, we must act now. We hope that K-pop fans from all over the world will join us in our journey."
Meanwhile, K-pop 4 Planet plans to run its own campaign in solidarity with various fandoms in the future.
Read More: UNICEF's 'Love My Self' Campaign Features BTS Jimin and Blackpink As The Ambassadors For Climate Change