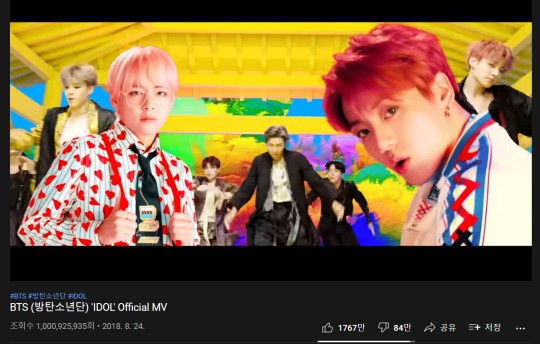 Kpop groups BTS and BLACKPINK have proven their influence on the media platform YouTube. They are continuing to expand with the same momentum. BTS 'IDOL' music video surpassed 1 billion views on YouTube, and BLACKPINK ranked first in the number of subscribers.
According to Big Hit Music on September 12th, the number of YouTube views for the music video for 'Idol' surpassed 1 billion as of 10:39 pm on the previous day. So, this will be their 6th music video with billion of views, following 'DNA' and 'Boy With Luv' (1.3 billion views each, 'Dynamite' (1.2 billion views), 'MIC Drop' remix and 'Fake Love' (1 billion views each).
'Idol,' which surpassed 1 billion views, is the title song of the repackage album 'LOVE YOURSELF 結 Answer,' released in August 2018. In fact, it ranked 11th on the Billboard main single chart 'Hot 100.'
The music video is full of Korean elements. It includes performances using a traditional Korean percussion instrument against the backdrop of a Korean pavilion.
Next, as of 2 pm on the same day, BLACKPINK has recorded 66.1 million subscribers. They have risen to the top of the list among the world's artists. Also, as of 7 pm on September 10th, it surpassed pop star Justin Bieber (65.1 million people), who had been in the top spot for a long time.
In fact, BLACKPINK's video content has condensed Kpop aesthetics such as music, performance, fashion, and stage production.
The music video for 'DDU-DU DDU-DU' has surpassed 1.6 billion views on YouTube. The music video shows a silver tank model close to the actual size, which enhances the concept.
Then, 'How You Like That' has over 900 million views. It features a performance in a large and colorful indoor garden filled with flowers everywhere. By boldly using supplies into sets and costumes, it gives fans a strong audio-visual experience.
Each member's solo activities are also on the road to success. Recently, Lisa released her solo song, 'LALISA.'
Then, she showed her performance at NBC's 'The Tonight Show Starring Jimmy Fallon' on September 11th.
The music video for 'LALISA,' released on September 10th, recorded 100 million views in two days. Earlier, Rosé's 'On The Ground' released a solo song in March and surpassed 200 million views.
Read More About: BTS 'In The Soop Season 2,' JTBC's First Release In October
2021 kpop news
,
2021 kpop updates
,
BLACK PINK
,
Blackpink
,
Blackpink Jennie
,
blackpink Jisoo
,
blackpink member
,
blackpink member jennie
,
Blackpink news
,
Blackpink Rosé
,
Blackpink_Jennie
,
Blackpink_Jisoo
,
Blackpink_Lisa
,
Blackpink_Rosé
,
Blackpink's Lisa
,
BlackpinkRosé
,
BTS
,
BTS Army
,
bts butter
,
bts jimin
,
bts jimin 2021
,
BTS News
,
BTS songs
,
BTS today
,
bts trending
,
BTS UPDATES
,
bts_butter
,
BTS_JIMIN
,
BTSTREND
,
Group BTS
,
KPOP
,
Kpop 2021
,
Kpop artist
,
Kpop artists
,
KPOP BTS
,
Kpop idols
,
Kpop news
,
Kpop trend
,
Kpop trending
,
KPop trending news
,
Kpop trending now
,
kpop trending update
,
kpop_Blackpink
,
Kpop_BTS
,
KPOP2021
,
Kpopall
,
KPOPIDA
,
KPOPNEWS
,
Trending
,
trending 2021
,
trending kpop
,
Trending Kpop news
,
trending kpop update
,
trending news
,
trending update kpop