BTS 'BangBang Con 21' free continuous broadcasting of past performances in Seoul, Busan, and Sao Paulo.
Watch 'BTS Concert 21' (Bang Bang Con 21), which continuously shows fan meetings and concerts held by the group BTS in the past on YouTube. About 2.6 million people flocked to it.
From 3 pm on the 17th, BTS has released 'Bangbangcon 21' for free. It shows three live performances in succession through YouTube's official channel, 'Bangtan TV.'
Immediately after the start, the number of viewers exceeded 1.76 million. And later, at one time, it exceeded 2.6 million. Even on the final performance of the last concert, more than 2 million people stood in front of the screen.
About 3.5 million posts have been posted on Twitter with hashtags related to their performances such as 'Bangbangcon 21' and 'BANGBANGCON21' from around the world.
This 'BangBang Con 21' is composed of a different performance lineup from 'BangBang Con' held last year.
BTS's second solo concert held in Seoul in 2015, '2015 BTS Live Trilogy: Episode I. BTS Begins,' opened its doors to the public. With the theme of 'BTS BEGINS,' it is a performance that contains the period of the group's birth and growth.
After that, the fifth global fan meeting, 'Magic Shop 1', held in Busan in June 2019 continued. It has the slogan, 'BTS' music, healing magic shop to listen to when you need comfort.'
'Bangbang Con 21' ended with the world tour 'Love Yourself: Speak Yourself' held in May of the same year in Sao Paulo, Brazil. The overwhelming size of the stadium Allianz Parc and the enthusiastic cheers of about 50,000 spectators gathered there attracted attention.
BTS held the online streaming festival 'Bangbang Con' for the first time in April last year after the spread of the coronavirus infection. They released 8 live concerts and fan meetings over two days.
It recorded 55.59 million views in about 24 hours. Also, the maximum number of concurrent users exceeded 2.24 million, and it became a big topic.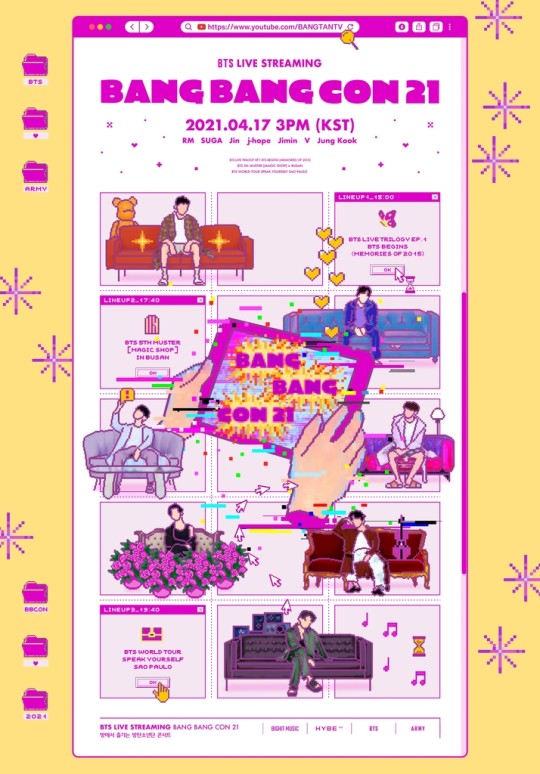 Read More About:
Lotte Duty Free Concert With BTS, TWICE, and More..
Hyunbin Kwon Is Friends With BTS Jin and Seungho Yoo?
bangbang Con 21
,
BTS
,
BTS Army
,
bts bangbang con 21
,
BTS News
,
BTS today
,
bts update
,
BTS UPDATES
,
BTSTREND
,
Group BTS
,
KPOP
,
Kpop artist
,
Kpop artists
,
KPOP BTS
,
Kpop idols
,
Kpop news
,
Kpop trending
,
KPop trending news
,
Kpop trending now
,
Kpop_BTS
,
KPOP2021
,
Kpopall
,
KPOPIDA
,
KPOPNEWS
,
Trending
,
trending 2021
,
trending kpop
,
Trending Kpop news
,
trending kpop update
,
trending news
,
trending update kpop