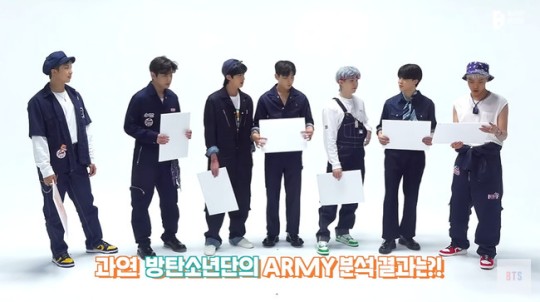 The group BTS (RM, Jin, Suga, J-Hope, Jimin, V, Jungkook) expressed their sincerity towards their fans, ARMYs.
On July 25th, they posted a video titled, 'BTS P. to. D PROJECT.'
Big Hit Music, the management company, introduced this project, "BTS analyzes A, R, M, and Y through ARMY analysis. Based on the conclusion from ARMY analysis, we will perform 'Permission to Dance' anew."
The released video shows the seven BTS members sitting down and continuing their story about the ARMY. They are redefining their new choreography for the new song 'Permission to Dance.'
Regarding the meaning of ARMY, BTS members said,
J-Hope: "Soulmates."
Jimin: "ARMY always bring me so much happiness,"
Suga: "An eternal companion."
Jungkook: "ARMY are like cogwheels. If even one cogwheel is missing, a clock doesn't work. So, they're like a driving force."
Jin: "ARMY is the one I want to bring joy to as they bring joy to me."
BTS V: "ARMY is a friend and partner that I will stay in contact with and connect with forever."
RM: "I am an ARMY, and ARMY is me. So, we're all one with ARMY now."
Meanwhile, BTS topped the US Billboard's main single chart 'Hot 100' for seven weeks in a row, with the single, 'Butter' released in May. Then, it was followed by the new song 'Permission to Dance,' inheriting the no.1 baton successfully.
In fact, singers who passed the baton to their new song on the 'Hot 100' chart include Drake, Justin Bieber, The Weeknd, Taylor Swift, The Black Eyed Peas, and the Beatles. So, it only means that it is a rare feat that will go down in the history of Billboard.
BTS plans to spread good influence around the world. Recently, BTS was appointed as the 'Special Presidential Envoy for Future Generations and Culture' on July 21st.
Accordingly, BTS plans to attend major international conferences such as the 75th United Nations General Assembly in the United States in September. So, they will spread a message of comfort and hope to young people around the world. On July 24th, BTS appeared on SBS '8 News' and announced that they would depart as a special envoy for the president.
Read More About: BTS Jin Showed His Sense Of Wit & Entertainment On SBS 8 News Interview
2021 kpop
,
2021 kpop news
,
2021 kpop news updates
,
2021 kpop updates
,
2021 news kpop
,
2021 updates on kpop
,
BTS
,
bts 2021
,
BTS Army
,
bts butter
,
bts jimin 2021
,
bts Jungkook 2021
,
BTS News
,
BTS Permission To Dance
,
BTS songs
,
BTS today
,
bts trending
,
BTS UPDATES
,
BTS V
,
BTS_RM
,
BTS_SUGA
,
BTSTREND
,
J-HOPE BTS
,
jimin bts
,
jin bts
,
KPOP
,
Kpop artist
,
Kpop artists
,
Kpop news
,
Kpop trend
,
Kpop trending
,
KPop trending news
,
Kpop trending now
,
kpop trending update
,
KPOP2021
,
KPOPIDA
,
KPOPNEWS
,
Kpopnews 2021
,
Trending
,
trending 2021
,
trending kpop
,
Trending Kpop news
,
trending kpop update
,
trending news
,
trending update kpop