BTS appeared in the Blue House during a crisis. On July 21st, President Jae-in Moon appointed BTS as a 'Presidential Special Envoy for Future Generations and Culture.'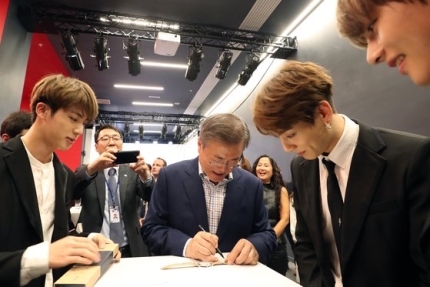 In a written briefing on the same day, Blue House spokesman Kyungmi Park said, "We have appointed BTS as a special envoy to lead the global agenda for future generations. It includes sustainable growth, and to expand diplomatic power in line with Korea's elevated status in the international community."
The Blue House further explained, "BTS will attend international conferences such as the 76th UN General Assembly in September. They will deliver messages of comfort and hope to young people worldwide."
BTS topped Billboard's main singles chart, 'Hot 100' on July 19th with their third new English song, ' Permission to dance.'
This is a record of beating Butter, who topped the Hot 100 list for seven consecutive weeks.
Kyungmi Park said, "The message of consolation in the lyrics of 'Permission to Dance,' the sign language in the choreography, and the coexistence and harmony of various races are in line with South Korea's will to overcome the coronavirus through cooperation with solidarity with the world."
President Moon's relationship with BTS does not just end there.

In 2015, President Moon participated in the song 'One Dream One Korea' with BTS Jungkook. They also used this song as the finale music for April 27, 2018, Inter-Korean Summit.
Blue House has introduced BTS in various ways in major aspects.
In September 2018, when BTS spoke at the 73rd UN General Assembly on the UNICEF Youth Agenda (Generation Unlimited) Partnership, first lady Jung-sook Kim attended and encouraged them.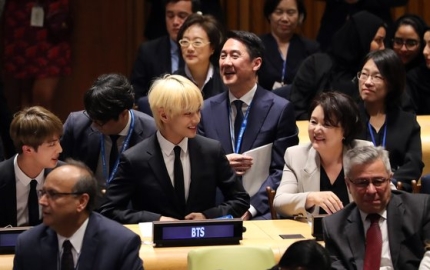 Two days later, BTS was spotted wearing the watch, which President Moon customized for them. They appeared in a live interview with ABC in the U.S., attracting attention.
In October that year, BTS performed on the 'Korea-France Friendship Concert' stage during President Moon's trip to France. Regarding the BTS appearance, Hyeonmin Tak, secretary of the protocol, said, "I said I would only give you a commemorative watch (for the fee). But, fortunately, the event ended well because I paid for all the expenses with the watch."
When the performance was over, President Moon went up to the stage and met the members. The leader, RM hugged him. Some of the BTS members bowed close to greet President Moon. In recognition of their contribution to the spread of the Korean Wave, they awarded BTS the Order of Cultural Merit.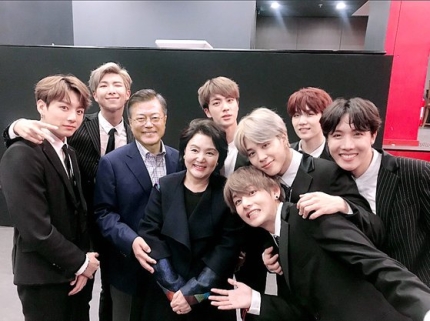 Also, the Blue House invited BTS as the youth representative to the 1st Youth Day ceremony in September last year. It was a time when the government was in unfair disputes. It is during the 'country crisis' and allegations related to the children of then Justice Minister Mi-ae Choo. Also, there are issues in the so-called 'humanitarian crisis' when Incheon International Airport Corporation hired irregular workers.
President Moon responded to the allegation head-on, repeating 'fairness' 37 times in a speech that he invited BTS to at the time. After the speech, President Moon said, "I like both singing and dancing. Hearing and watching BTS' songs and dances, I feel like young people who have reached the stage. I can't keep up with idol music, but I can hear BTS' songs. I can catch up. That's why their fan base seems to be thick."
President Moon used 'Dynamite' as the closing music for his special speech of the Korean summit at the 2021 World Economic Forum, held online on January 27th. 
Also, President Moon has publicly used BTS several times as a topic for conversations to resolve the awkwardness of first meetings with foreign leaders.
Read More About: BTS, Big Hit, UNICEF, Expand 'Love Myself' Campaign
BTS
,
BTS Army
,
BTS News
,
BTS songs
,
BTS today
,
bts trending
,
BTS UPDATES
,
BTS_JIMIN
,
BTSTREND
,
Group BTS
,
KPOP
,
Kpop 2021
,
Kpop artist
,
Kpop artists
,
KPOP BTS
,
Kpop idols
,
Kpop news
,
Kpop trend
,
Kpop trending
,
KPop trending news
,
Kpop trending now
,
Kpop_BTS
,
KPOP2021
,
Kpopall
,
KPOPIDA
,
KPOPNEWS
,
trending kpop
,
Trending Kpop news
,
trending kpop update
,
trending update kpop