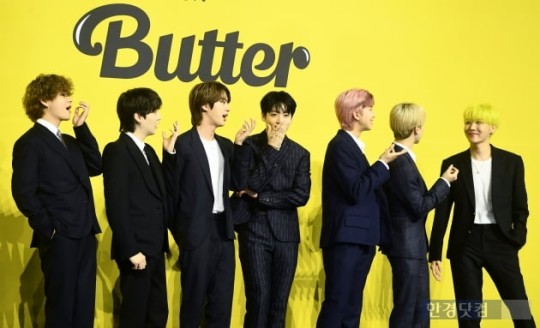 BTS members directly revealed the reason for their frequent entertainment appearances.
BTS held a global press conference commemorating the release of their new digital single 'Butter.' It took place at the Olympic Hall inside the Olympic Park in Bangi-dong, Songpa-gu, Seoul on May 21st. On that event, the group BTS said, "Many things planned due to the corona situation have changed."
Before, BTS had few appearances in other entertainment programs besides their own entertainment 'Run BTS.'
Other idol groups have taken a different step from appearing in numerous entertainment programs for publicity after their comeback.
However, recently, BTS appeared on tvN's 'U Quiz on the Block,' KBS special talk show, and tvN's 'Fifteen Nights on a Business Trip' led by Production Director Youngseok Na. Also, the members have been active in various entertainment programs.
"I've changed my mind about appearing in entertainment shows. Rather, as many people would do, I couldn't meet my fans because many things I planned (with Covid-19) were canceled. There were many restrictions. I thought about what I could do. So, I came out on the show and produced content with my fans," BTS Jimin said.
Jimin added, "I came to appear with the idea that it would be nice if our entertainment appearance would be a gift to the fans."
BTS J-Hope also said, "As I faced with the Covid-19 situation, I felt uneasy and confused. My plan was canceled. I had an unplanned digital single coming out. I felt happy, with new emotions coming out while working on the album. It's been a roller coaster year," he said.
"Music was the biggest role in that center. Even when I was struggling and anxious, the breakthrough was music. It was music that brought such an auspicious thing. As I went through such a time, I felt the power of music greatly. We also wanted to make music that gives us such good energy."
V also expressed regret when he could not meet with fans directly through events such as large concerts, fan meetings, and autograph sessions during the coronavirus period. Ahead of their eighth anniversary next month, BTS V said, "I think it's unfortunate that we can't see ARMY (fandom), and we're hosting an event on our own. But I'm going to try hard."
BTS Jimin added, "I felt isolated because I couldn't meet my fans. I wanted to show you a lot of things, and when I tried to put a lot of things in one song, I put out butter because I thought about the exterior, dance, voice, and so on."
'Butter,' released worldwide at 1 pm on this day, is an addictive dance-pop genre song. It is the 2021 version of BTS's exciting and cheerful Summer Song. It features a captivating bassline and a refreshing synth sound from the beginning.
'Butter' is the second English song of BTS, following the digital single 'Dynamite' that became a hit worldwide after its release in August last year. The new song 'Butter' contains BTS's cute confession that it will melt you gently like butter and capture you.
BTS has once again melted their own irreplaceable style through 'Butter.' BTS's contrasting appeal was shown simultaneously.
BTS also expresses their affection for the fandom ARMY through 'Butter.' 'Got ARMY right behind us when we say so Let's go,' refers directly to ARMY through the lyrics. While in the music video, the members made an alphabet with their bodies and delivered a message to ARMY worldwide. BTS V, who continued his performance in the elevator, presses the A-floor button, which also means BTS's love for ARMY from the basement to the A-floor.
Read More About: BTS Jin Fan Club Runs A Wrapping Bus To Celebrate The 2nd Anniversary Of 'Tonight'
BTS
,
BTS Army
,
BTS News
,
BTS songs
,
BTS today
,
bts trending
,
BTS UPDATES
,
BTSTREND
,
Group BTS
,
KPOP
,
Kpop 2021
,
Kpop artist
,
KPOP BTS
,
Kpop idols
,
Kpop news
,
Kpop trend
,
Kpop trending
,
KPop trending news
,
Kpop trending now
,
kpop trending update
,
Kpop_BTS
,
KPOP2021
,
KPOPIDA
,
KPOPNEWS
,
Trending
,
trending 2021
,
trending kpop
,
Trending Kpop news
,
trending kpop update
,
trending news
,
trending update kpop