BTS and Black Pink were mentioned by US Minister Antony Blinken on his twitter post. US Minister Blinken has visited Korea and left for Alaska.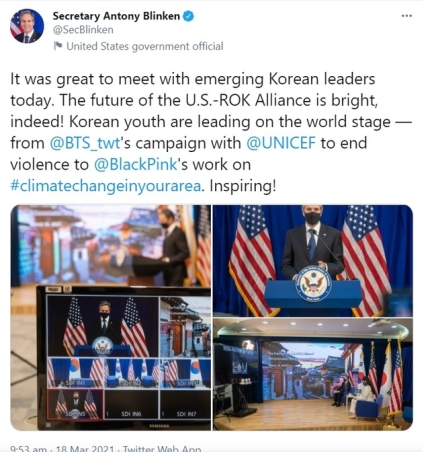 US Secretary of State Antony Blinken highlighted that young Koreans are leading the world stage. He mentioned the group BTS and Black Pink as good examples.
On March 18th, Minister Blinken posted on his Twitter account. He said, "It was nice to meet Korea's rising leaders. The future of the US-Korea alliance is so bright, indeed! BTS campaigns with UNICEF to end violence. Then, Black Pink works for 'Climate Change in Your Area.' Korean youth leads the world stage. Inspiring!"
Recently, BTS is running a campaign to abolish violence against children with UNICEF. In comparison, Black Pink is the ambassadress for United Nations Conference on Climate Change. It is under the control of the UK.
"I am happy to discuss with the group of Korean journalists that are arising today. The free and solid journalism of various voices is a symbol of a strong democracy. I am happily engaging with the next generation of Korean journalists who will lead the way forward," Minister Blinken said.
On March 17th, Minister Blinken visited Korea and held a non-face-to-face meeting with young Korean leaders.
In fact, this is Minister Blinken's first overseas trip after the inauguration of U.S President Joe Biden. He visited Japan, then head to South Korea. Minister Blinken accomplished the trip with US Defense Secretary Lloyd Austin starting on March 15th.
US Minister Blinken and Minister Austin met with the Korean Foreign Minister Eui-Yong and Defense Minister Su-Wook. The ministers met and attended Korean President Jae-in Moon's prevention schedule.
During their visit to Korea, they discussed the North Korean issue. Also, they talked about the trilateral cooperation between South Korea, the US, and Japan. Besides, regional and global issues such as Coronavirus and climate change were in the discussion.
Meanwhile, on March 18th, Minister Blinken left Korea to go to Anchorage, Alaska. This is to attend high-level face-to-face talks with the US and China. It is after finishing all his Korean schedule.