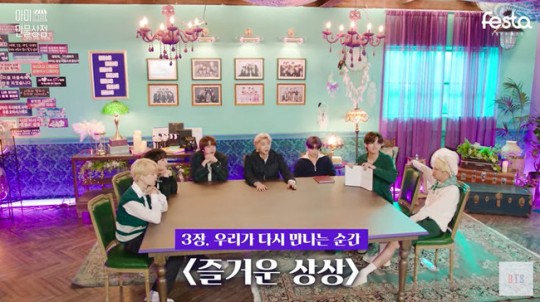 The group BTS (RM, Jin, Suga, J-Hope, Jimin, V, Jungkook) expressed their feelings on their 8th debut anniversary.
On June 13th, BTS released the 'ARMY Corner Store' video on their official YouTube channel 'BANGTANTV.' This is the content that BTS presented as part of FESTA.
In fact, BTS debuted on June 13, 2013, marking its 8th anniversary on June 13, 2021. So, BTS celebrates its debut anniversary every June. They are participating in and completing Festa-related projects every year. This is to deliver meaningful gifts to fans. This year, they will be communicating with fans 'ARMY' through various contents.
In the video, BTS sat around the table and recalled memories with ARMY. "Army is our community. We're not the only ones who can make good results. I think it's the result of us and ARMY giving us too much strength and working hard from behind. I hope many people know that what we achieved was made by ARMY together," the members said.
Also, BTS showed confidence in their solo concert. The members said, "The ARMY fans who have become fans these days have not seen our concert yet. They probably don't know the heat of the concert yet. If you look at it, you can't find that strong performance anywhere else. You can't go anywhere else after watching a BTS concert. We want to show you that kind of feeling."
They added, "We don't want much. We want to look into ARMY's eyes, hear your voice, and dance and sing in front of you. We're just waiting for that day. We miss you. We're curious about each person's story. We wonder how you became an ARMY and what dreams you have and where you live. One day, we will be able to hear every one of you. In fact, this is also a message from BTS's April 2019 album 'MAP OF THE SOUL: PERSONA' title track 'Boy With Luv.'
Also, BTS confessed how they feel about continuing these activities in the Covid-19 situation. BTS said, "Suddenly it stopped. Not only us, but also the whole world's daily life itself has stopped. For more than a year, there's still a little bit of depression about not being able to perform. But, people live according to the situation. We've adapted to this situation in our own way."
In addition, BTS expressed a positive attitude, saying, "Because of that period, we were able to play music. So, I think that various members' songs were able to come out. It is not necessarily bad if you endure and persevere."
They also expressed their anticipation for the moment they reunited with ARMY's. BTS said, "Honestly, we don't think we'll shed tears during the opening. Instead, we will cry the whole time, 100%. The tear button is ON."
At the end of the video, they released their wish lists. BTS wished that the seven members should be together for a long time. Besides, they wished for everyone's health, long performances, live happily ever after, reuniting with fans with a healthy and mature heart, ending Covid-19, resuming concerts, and winning the US Grammy Awards.
On June 13 and 14, BTS plans to perform live on 'BTS 2021 Muster SOWOOZOO (Mikrokosmos),' an exclusive fan meeting. After two years, they will host the first solo fan meeting live on the outdoor stage, while fans can stream online.
Read More About: Sentizone, To Make His Debut On June 19th With 'Unforgettable'
2021 kpop
,
2021 kpop news
,
2021 kpop news updates
,
2021 kpop updates
,
2021 news kpop
,
2021 updates on kpop
,
BTS
,
BTS Army
,
BTS News
,
BTS songs
,
BTS today
,
bts trending
,
BTS UPDATES
,
BTSTREND
,
Group BTS
,
KPOP
,
Kpop 2021
,
Kpop artist
,
Kpop artists
,
KPOP BTS
,
Kpop idols
,
Kpop news
,
Kpop trend
,
Kpop trending
,
KPop trending news
,
Kpop trending now
,
kpop trending update
,
Kpop_BTS
,
KPOP2021
,
Kpopall
,
KPOPIDA
,
KPOPNEWS
,
Kpopnews2021
,
Trending
,
trending 2021
,
trending kpop
,
Trending Kpop news
,
trending kpop update
,
trending news
,
trending update kpop