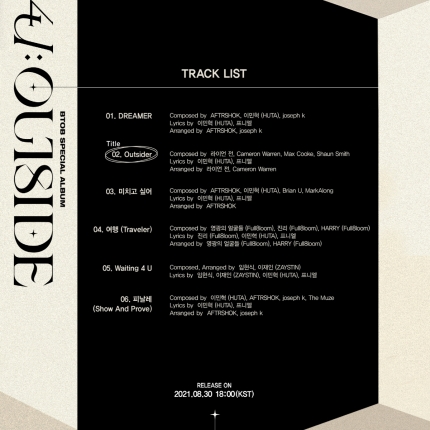 Kpop group BTOB has released the tracklist of their new album '4U:OUTSIDE.'
Cube Entertainment posted the tracklist of the special album '4U:OUTSIDE' through BTOB's official social media channel at midnight on August 17th.
The released tracklist includes a total of six songs. It includes the title song 'Outsider,' 'Dreamer,' 'I Want To Go Mad,' 'Traveler,' 'Waiting 4 U,' and 'Show And Prove.'
The title song 'Outsider' enhances musical perfection by combining Ryan Jhun's unique compositional sense, who composed one of the leading Kpop songs, and the honest lyrics of members Minhyuk Lee and Peniel.
BTOB members participated in all songs in the album, including the title song 'OUTSIDER,' raising expectations to prove once again the modifier of 'BTOB that you can trust and listen to.'
Particularly, this will be BTOB's first album release after appearing in Mnet's 'Kingdom: Legendary War,' which aired in April. So, they are attracting the keen attention of Kpop fans around the world.
Kpop group BTOB will release the special album '4U:OUTSIDE' on various online music sites at 6 pm on August 30th.
Read More About: Fromis_9 Will Now Be Managed By Pledis Entertainment
4U:OUTSIDE
,
btob
,
BTOB comeback
,
BTOB members
,
btob news
,
btop kpop
,
KPOP
,
Kpop album
,
kpop album release
,
kpop albums
,
Kpop artist
,
Kpop artists
,
kpop btob
,
kpop btob news
,
KPOP comeback
,
kpop group BTOB
,
Kpop idols
,
Kpop news
,
Kpop trend
,
Kpop trending
,
KPop trending news
,
Kpop trending now
,
kpop trending update
,
KPOP2021
,
KPOPIDA
,
KPOPNEWS
,
Trending
,
trending 2021
,
trending kpop
,
Trending Kpop news
,
trending kpop update
,
trending news
,
trending update kpop