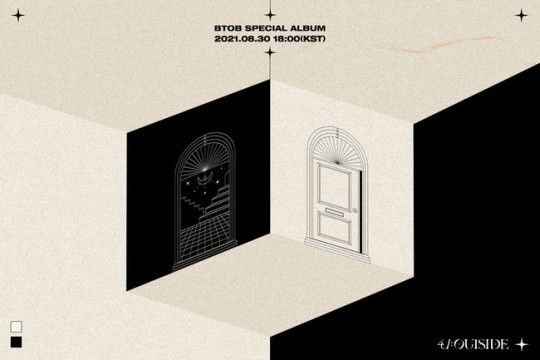 Kpop group BTOB is making a comeback with a special album. Cube Entertainment released the artwork teaser image for the special album '4U: OUTSIDE' through BTOB's official social media channel at midnight on August 12th.
In the released teaser image, the stairs and doors with a sensuous mood are expressed in opposite colors. It is raising curiosity about the new album with a mysterious charm.
BTOB's new album '4U: OUTSIDE' is after about 9 months since the mini-album 'INSIDE,' released in November last year.
Through Mnet's 'Kingdom: Legendary War,' which aired in April, they created a legendary performance surpassing the limits every time. They proved that they are a group with an infinite spectrum. BTOB has continued its unbeaten streak by creating numerous masterpieces such as 'Missing You,' 'Only One For Me,' and 'Beautiful Pain.'
So, they will surely gain another round of attention with this album.
Kpop group BTOB will release their special album '4U: OUTSIDE' through various online music sites at 6 pm on August 30th.
Read More About: Brave Girls Unveils Repackage Album Promotional Timetable
2021 kpop news
,
2021 kpop updates
,
4U: OUTSIDE
,
btob
,
BTOB comeback
,
BTOB members
,
btop kpop
,
INSIDE
,
KPOP
,
Kpop 2021
,
Kpop artist
,
Kpop artists
,
kpop btob
,
kpop btob news
,
KPOP comeback
,
kpop group BTOB
,
Kpop idols
,
Kpop news
,
Kpop trend
,
Kpop trending
,
KPop trending news
,
Kpop trending now
,
KPOP2021
,
Kpopall
,
KPOPIDA
,
KPOPNEWS
,
trending kpop
,
Trending Kpop news
,
trending kpop update
,
trending update kpop