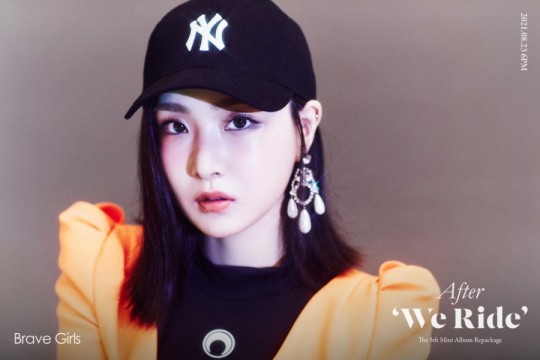 Kpop group Brave Girls member Yuna showed off her doll-like appearance. On August 19th, Brave Entertainment posted two individual photo teaser images of the repackage album 'After 'We Ride' through the agency and Brave Girls' social media accounts. The main character of the released teaser is the youngest member of the group, Yuna.
In the first published image, Yuna completed a unique styling. She matched a stylish white-color mini dress with a chain pattern and a hand warmer. Yuna's trademark short haircut with wet hair was also a factor that doubled her unique atmosphere. In the next photo teaser released, she showed off her unique look and hip styling with vivid colors.
Kpop group Brave Girls' new album 'After 'We Ride,' which they will release at 6 pm on August 23rd, is a repackage album of the 5th mini-album, 'Summer Queen.'
It consists of a total of 4 tracks, including a newly arranged song.
Meanwhile, attention focuses on whether Brave Girls will be able to firmly secure their position as an emerging music powerhouse by releasing the repackage album, 'After 'We Ride,' at 6 pm on August 23rd.
Read More About: CL Released The MV Teaser For 'Spicy,' The First Single From 'ALPHA
After We Ride
,
brave entertaiment
,
Brave girls
,
Brave Girls_Rollin
,
brave girls_summer queen
,
Brave_girls_Rollin
,
bravegirls
,
bravegirls_Yuna
,
Korean celeb news
,
KPOP
,
Kpop artist
,
Kpop artists
,
Kpop Bravegirls
,
kpop celebrity news
,
Kpop latest news
,
kpop latest updates
,
Kpop news
,
Kpop recent news
,
Kpop trending
,
KPop trending news
,
kpop Yuna
,
kpop_brave girls
,
kpop_brave grirls
,
KPOP2021
,
KPOPIDA
,
KPOPNEWS
,
latest kpop news
,
latest kpop updates
,
recent kpop news
,
trending 2021
,
trending kpop
,
Trending Kpop news
,
trending kpop update
,
trending update kpop
,
Yuna