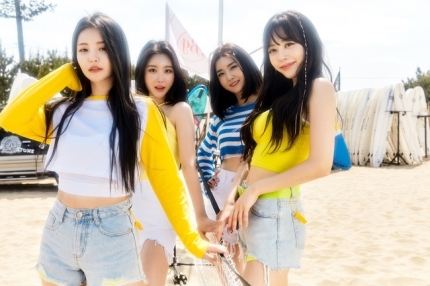 The group Brave Girls will appear at Melon Station upon their comeback.
Brave Girls will appear on the Melon Station program 'Today's Music' at 6 pm on June 17. They will reveal stories about their fifth mini-album, 'Summer Queen,' and their daily lives.
Brave Girls had appeared in 'Today's Music' since April when they were at the center of reverse popularity with 'Rollin.' At that time, the members talked about candid stories such as how they felt about going backward and revealing their daily lives. It attracted much attention from the public.
This time again, they will unveil 'Rollin' and 'Summer Queen Brave Girls Summer Playlist.'
This is their first comeback since their debut.
Brave Girls will release their fifth mini-album, 'Summer Queen' at 6 pm on June 17th. The title song 'Chi Mat Ba Ram' (The Swish Of A Skirt), a tropical house-based dance song, is very suitable for summer. It features a cool sound starting from the intro with addictive melodies.
'Today's Music' is a representative program of Melon Station, hosted by musicians ranging from idols to talented singer-songwriters and artists. They appear on the day of releasing their new albums to explain new songs and talk about how they are doing.
Read More About: WEi Released A Reaction Video For 'BYE BYE BYE' MV
Brave girls
,
Brave Girls_Eunji
,
brave girls_minyoung
,
Brave Girls_Rollin
,
brave girls_summer queen
,
Brave Girls_Yujeong
,
Brave_girls_Rollin
,
bravegirls
,
bravegirls_Yuna
,
KPOP
,
Kpop 2021
,
Kpop artist
,
Kpop artists
,
Kpop Bravegirls
,
Kpop idols
,
Kpop news
,
Kpop trend
,
Kpop trending
,
KPop trending news
,
Kpop trending now
,
kpop_brave grirls
,
KPOP2021
,
Kpopall
,
KPOPIDA
,
KPOPNEWS
,
summer queen
,
trending kpop
,
Trending Kpop news
,
trending kpop update
,
trending update kpop