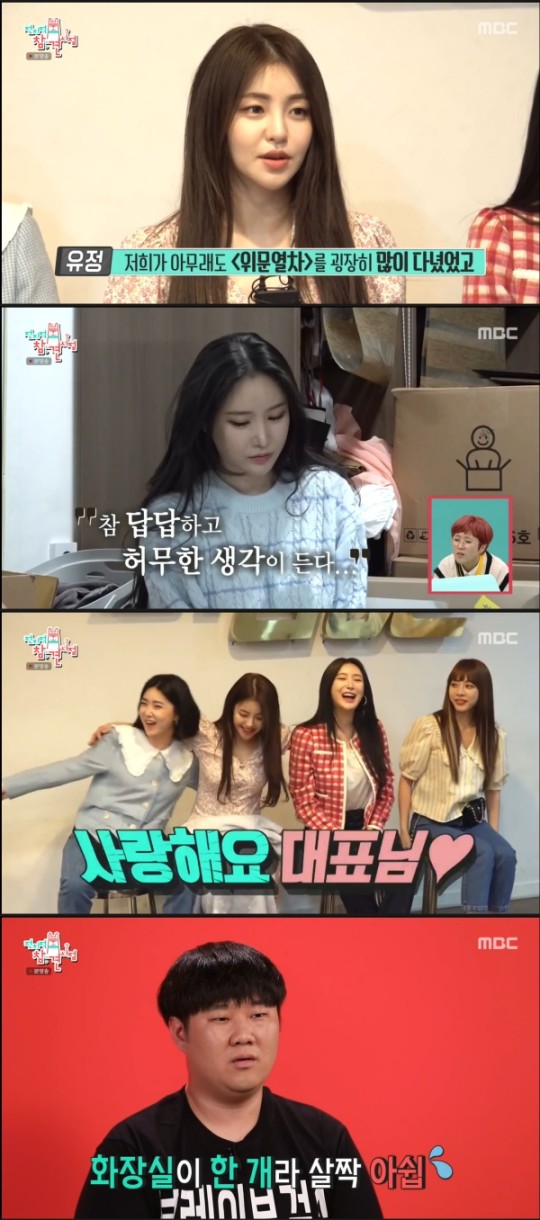 Brave Girls is looking for a new accommodation.
In the MBC entertainment program 'Point of Omniscient Intervention', which aired on the 17th, Brave Girls were revealed that they are looking for a new accommodation to live with.
In the newly introduced hostel, there was a dressing room that the members admired. The living room connects to a terrace. And, it has a luxury sofa. Eunji said, "I like having a sofa like this. There was no space to sit in our previous hostel." The youngest Brave Girls member, Yuna, said, "We have the most important toilet."
However, there was only one toilet, so the members showed a little regret. The manager of Brave Girls said, "I really like the location and security. But it's a bit unfortunate that the members have only one bathroom."
To motivate the girls, they introduced luxury accommodations. It was a house with a fireplace, a dressing room with ample storage space, and two toilets. The members said, "I want to live in a place like this someday."
On the other hand, MBC's 'Point of Omniscient Intervention' airs every Saturday at 11:10 pm.
Read More About: Brave Girls Eunji 'A Relationship With Gura Kim's son, Gree'
2021 kpop news
,
2021 kpop news updates
,
2021 kpop updates
,
Allkpop
,
Brave girls
,
KPOP
,
Kpop 2021
,
Kpop artist
,
Kpop artists
,
Kpop Bravegirls
,
Kpop idols
,
Kpop news
,
Kpop trend
,
Kpop trending
,
KPop trending news
,
Kpop trending now
,
kpop trending update
,
kpop_brave girls
,
kpop_brave grirls
,
KPOP2021
,
Kpopall
,
KPOPIDA
,
KPOPNEWS
,
Kpopstars
,
trending kpop
,
Trending Kpop news
,
trending kpop update