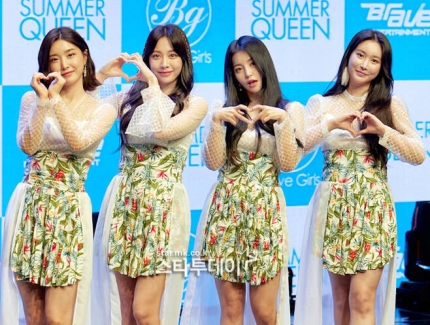 Group Brave Girls will undergo testing for COVID-19 infection.
On July 7th, an official from Brave Girls' agency said, "The Brave Girls will undergo testing for COVID-19."
According to the agency, Brave Girls received the news this morning that one of the outside staff members at the recently conducted filming site tested positive for COVID-19. Although the members were not close contacts, they decided to undergo testing just in case. This is to ensure a safe schedule in the future.
As a result, the members could not attend their scheduled appearance on KBS Cool FM's radio show, 'Jung Eun Ji's Music Plaza,' today, July 7th. In addition, they will self-quarantine until the release of the results of the diagnostic test and will monitor the progress.
Brave Girls had their first heyday after their debut with 'Rollin,' released four years ago. Now, they are running towards popularity with their recently released new song 'Chi Mat Ba Ram.'
Amid the recent spread of COVID-19 in the metropolitan area, the authorities turned the red light on as confirmed cases of infection continued in the entertainment industry. It includes artists from the broadcasting and music industry. Earlier today, there's news confirming that the head of the KBS Drama Center tested positive for COVID-19. So, follow-up measures such as quarantine and quarantine of close contacts were taken.
Previously, Baekchun Im, a broadcaster who hosted KBS2 Radio (106.1 MHz) 'Im Baekchun's Back Music,' Jiyeon Cha, an actress who appeared in the musical 'Red Book' and 'Gwanghwamun Sonata,' and Minhyuk Kim, an actor appearing on the theater-type visible radio 'On Air-Spinoff' tested positive for COVID-19. So, their close contacts will undergo COVID-19 testing and quarantine.
Read More About: 'PEPSI TASTE OF KOREA CAMPAIGN' Confirms Final Lineup Of Artists
2021 kpop
,
2021 kpop girl idols
,
2021 kpop news
,
2021 kpop news updates
,
2021 kpop updates
,
2021 news kpop
,
2021 updates on kpop
,
Brave girls
,
brave girls chi mat ba ram
,
Brave Girls_Eunji
,
brave girls_minyoung
,
Brave Girls_Rollin
,
brave girls_summer queen
,
Brave Girls_Yujeong
,
Brave_girls_Rollin
,
bravegirls
,
bravegirls_Yuna
,
KPOP
,
Kpop 2021
,
Kpop artist
,
Kpop artists
,
Kpop Bravegirls
,
Kpop idols
,
Kpop news
,
Kpop trend
,
Kpop trending
,
KPop trending news
,
Kpop trending now
,
kpop_brave girls
,
KPOP2021
,
Kpopall
,
KPOPIDA
,
KPOPNEWS
,
Kpopnews 2021
,
trending 2021
,
trending kpop
,
Trending Kpop news
,
trending kpop update
,
trending update kpop