Following the reverse popularity, Brave Girls aim for the title of 'Summer Queen.' They have released the concept image for their new album.
Brave Entertainment, the agency, released the individual concept image and group concept image 'Summer ver.' of Brave Girls' 5th mini-album 'Summer Queen' through their official social media at midnight.
In the individual concept images released, Brave Girls Minyoung and Yuna attracted attention with their colorful summer look and cool theme. Yujeong showed off her mesmerizing smile, while Eunji showed off her cool angular beauty, attracting the attention of fans. In addition, the group concept image showed off the background of the summer atmosphere. The members' smiles, full of sunlight, showed off their improved appearance.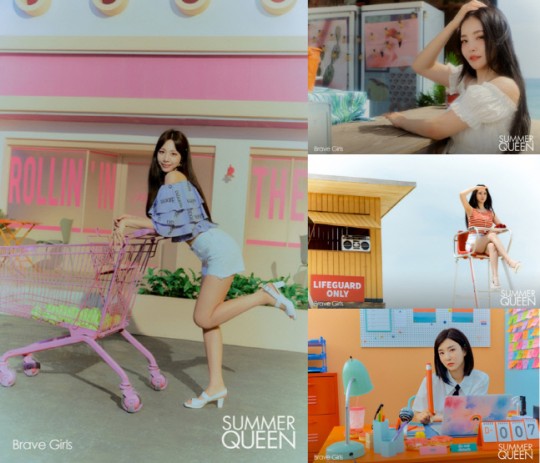 Brave Girls, who talked about disbanding just two months ago, are currently the hottest girl group in Korea. Brave Girls' move over the past 40 days is more dramatic than any other drama. The song 'Rollin,' released four years ago, topped the music charts. Also, it won six music broadcasts, appeared in various entertainment shows, and wrote new records. "We Ride" also made a comeback, heating up this spring.
Every summer, new, mid-sized girl groups and existing girl groups that have secured strong fandom have made their debuts and comebacks. This is to aim for growth and leap forward. Even the formula 'Summer Queen' and 'Summer Song has not been created in recent years. It is hard to find a song that represents summer. In the meantime, if Brave Girls, which is attracting attention with "Rollin," retakes the seat of Summer Queen, which is virtually vacant, it will pave the way for a long life as a top girl group.
Brave Girls said through many interviews and broadcasting media that they want to be the next summer queen. So, fans are paying attention to whether they will be able to heat up this summer. Many are curious if they will be the next summer queen through this album 'Summer Queen.'
Read More About: Brave Girls 'Rollin' #1 on Melon's Monthly Chart For 3 Consecutive Months
Brave girls
,
Brave Girls_Eunji
,
brave girls_minyoung
,
Brave Girls_Rollin
,
Brave Girls_Yujeong
,
Brave_girls_Rollin
,
bravegirls
,
bravegirls_Yuna
,
KPOP
,
Kpop 2021
,
Kpop artist
,
Kpop artists
,
Kpop Bravegirls
,
Kpop idols
,
Kpop news
,
Kpop trend
,
Kpop trending
,
KPop trending news
,
Kpop trending now
,
kpop_brave girls
,
kpop_brave grirls
,
KPOP2021
,
Kpopall
,
KPOPIDA
,
KPOPNEWS
,
Trending
,
trending 2021
,
trending kpop
,
Trending Kpop news
,
trending kpop update
,
trending news
,
trending update kpop