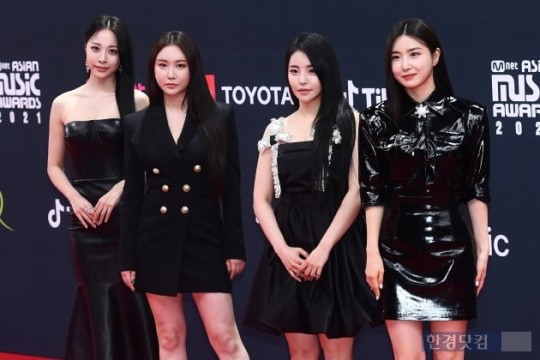 Kpop group Brave Girls has photo time at the '2021 Mnet Asian Music Awards (2021 MAMA)' red carpet event. It took place at the CJ ENM Studio Center in Paju, Gyeonggi Province on the afternoon of December 11.
'MAMA' has been presenting the possibility of KPOP and communicating with the world through music. It shows newness that breaks prejudice for a long time, including the first global hosting of KPOP awards and the first simultaneous hosting of KPOP awards in three Asian regions.
'2021 MAMA' plans to showcase the stage under the concept of 'MAKE SOME NOISE,' which allows the world to experience the power of strong music that goes beyond the walls of the country, race, and generation without prejudice and becomes a bigger one.
Read More About: ITZY Chaeryeong Attracts Attention With Her Seductive Charm!
After We Ride
,
best Kpop girl group
,
best kpop news site
,
best kpopstar
,
Brave girls
,
Brave Girls members
,
breaking news kpop
,
Chi Mat Ba Ram
,
daily kpop news
,
Fandom
,
Korean celeb news
,
Korean singer
,
Korean singer songwriter
,
KPOP
,
Kpop album
,
kpop award ceremony
,
Kpop awards
,
Kpop beauty routine
,
Kpop boy group
,
Kpop Brave Girls
,
kpop celebrity news
,
Kpop chart and news
,
Kpop colllaboration
,
KPOP comeback
,
Kpop current news
,
kpop daily news
,
Kpop fashion
,
Kpop girls group
,
Kpop idols
,
Kpop issues
,
Kpop latest news
,
KPOP MAMA awards
,
kpop music awards
,
Kpop music chart
,
Kpop news
,
Kpop news articles
,
Kpop news sites
,
kpop news update
,
Kpop recent news
,
Kpop skin care routine
,
Kpop skincare routine
,
KPop trending news
,
KPOPNEWS
,
MAMA
,
MAMA awards
,
MAMA kpop
,
Mnet
,
Mnet Asian Music Awards
,
Mnet program
,
MNET SHOW
,
Mnet TMI News
,
Rollin
,
South Korean singer songwriter
,
summer queen
,
the best kpop girl group
,
the best kpop girl group of 2021
,
the best kpop group of 2021
,
the top kpop group
,
TMI NEWS
,
top kpop boy group
,
top kpop girl group
,
We Ride
,
Yuna