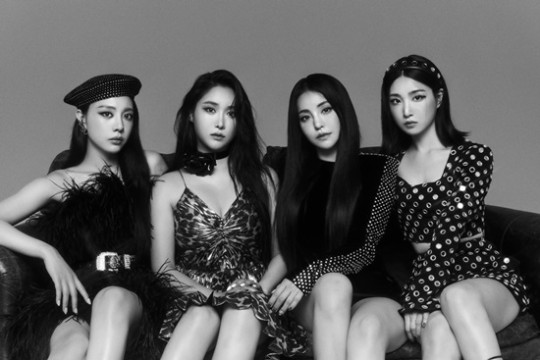 Kpop group Brave Girls came back with a new song, 'Drinking Habits,' from the 'After We Ride' album. It will surely be a trend following Rollin's 'Reverse Run.'
Brave Girls released their repackage album 'After We Ride' through various music sites at 6 pm on August 23rd.
The title song 'Drinking Habits' (After We Ride) is a pop dance song with sad lyrics and melody. It contrasts with the cool rock sound of the song. It contains the back story of 'We Ride' and 'Rollin,' which music fans loved a lot.
In a recent written interview with Xports News, Brave Girls introduced, "As this is our first repackage album, we have arranged and composed the existing songs so that they do not feel boring."
As mentioned, this repackage album includes the title song 'DrinkingHabits,' acoustic version of 'Chi Mat Ba Ram' from the 5th mini-album 'Summer Queen,' the remix version for 'FEVER,' a hip-hop genre song completely different from the original genre, and the piano version of 'Summer By Myself,' a b-side song from 'Summer Queen,' which is full of emotions different from the original song.
When asked about the differences between the two songs, as they introduced the new song 'Drinking Habits' as the back story of 'We Ride,' Brave Girls said, "'We Ride' had a strong city-pop feel, and 'Drinking Habits' had a rock and pop sound. It feels like a mix of dance genres. The new song can make you feel the loneliness after a breakup."
Particularly, Minyoung quoted what Brave Brothers said about 'Drinking Habits,' "You have to express the emotions of separation really well."
Then, Minyoung added, "I once called my ex-boyfriend because I'm drunk. So, I tried to use my emotions that time into the song."
Brave Girls had a busy life with pouring schedules and spotlights after the reverse popularity of 'Rollin' on music charts. Particularly, reports said that Brave Brothers gifted the members with luxury bags, accommodation for each member, and the first settlement of their bank account. So, Brave Girls became a hot topic.
"At first, we felt empty because there were no members, but now we're somewhat used to it," Brave Girls said about their life on their own accommodation.
After their reverse popularity, the Kpop group Brave Girls strengthened their status. When asked about the secret of teamwork, the youngest member, Yuna, said, "We've been together since we were trainees. Fortunately, the members got along well. Since we experienced a slump, it seems that our teamwork naturally strengthened by comforting each other and being on each other's side. There are a lot of things that I thought would be difficult. As I learned a lot from my sisters, I always wanted to be with them."
Through the new song 'Drinking Habits,' Eunji said, "We succeeded with our last album. But, I want to be successful this time as well to solidify our title as an 'Idol.'
Regarding the long-term goal she wants to achieve as Brave Girls, Yujeong concluded the interview by saying, "I want to be active with the Brave Girls for a long time."
Meanwhile, fans can enjoy Brave Girls' new album 'After We Ride' through various music sites.
Read More About: Brave Girls Released The New Album 'After We Ride'
2021 kpop news
,
2021 kpop updates
,
brave entertaiment
,
Brave girls
,
brave girls chi mat ba ram
,
Brave Girls_Eunji
,
brave girls_minyoung
,
Brave Girls_Rollin
,
brave girls_summer queen
,
Brave Girls_Yujeong
,
Brave_girls_Rollin
,
bravegilrs_minyoung
,
bravegirls
,
bravegirls_Yuna
,
KPOP
,
Kpop 2021
,
Kpop artist
,
Kpop artists
,
Kpop Bravegirls
,
kpop celebrations
,
Kpop idols
,
Kpop news
,
Kpop trend
,
Kpop trending
,
KPop trending news
,
Kpop trending now
,
kpop_brave girls
,
KPOP2021
,
KPOPIDA
,
KPOPNEWS
,
trending kpop
,
Trending Kpop news
,
trending kpop update
,
trending update kpop