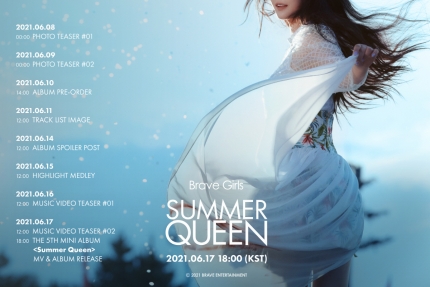 Brave Girls will be making a comeback with 'Summer Queen' on June 17th.
At midnight, Brave Entertainment announced the full-fledged comeback of Brave Girls. They released a scheduler image containing the content release schedule for the 5th mini-album 'Summer Queen' through their official social media.
According to the released scheduler, Brave Girls will release concept image teasers, album specifications, tracklist images, album spoiler posts, highlight medley, and new song MV teasers sequentially. It is raising fans' expectations until the comeback day.
Particularly, netizens predicted the birth of the next summer queen, saying, "I can already feel the summer atmosphere."
Brave Entertainment said, "Ahead of the comeback on June 17th, the members are busy preparing for their return. We prepared an album filled with summer songs that will be responsible for this summer. So, please look forward to it."
Starting with the reverse popularity of 'Rollin,' released four years ago, Brave Girls' 'We Ride' also succeeded in capturing the music fans' hearts. The song is heating up this spring. In addition, Brave Girls have said, "We want to become the next-generation summer queen" through many interviews and broadcast media. This is after going their reverse popularity. As of now, fans are paying attention to whether the group will heat up this summer as the 'next-generation summer queen' through the album 'Summer Queen.'
Read More About: WOO!AH! Unveiled 'Purple' Performance On 'Show Champion'
Brave girls
,
Brave Girls_Eunji
,
brave girls_minyoung
,
Brave Girls_Rollin
,
Brave Girls_Yujeong
,
Brave_girls_Rollin
,
bravegirls
,
bravegirls_Yuna
,
KPOP
,
Kpop 2021
,
Kpop artist
,
Kpop artists
,
Kpop Bravegirls
,
Kpop idols
,
Kpop news
,
Kpop trend
,
Kpop trending
,
KPop trending news
,
Kpop trending now
,
kpop trending update
,
kpop_brave girls
,
kpop_brave grirls
,
KPOP2021
,
Kpopall
,
KPOPIDA
,
KPOPNEWS
,
Trending
,
trending 2021
,
trending kpop
,
Trending Kpop news
,
trending kpop update
,
trending news
,
trending update kpop