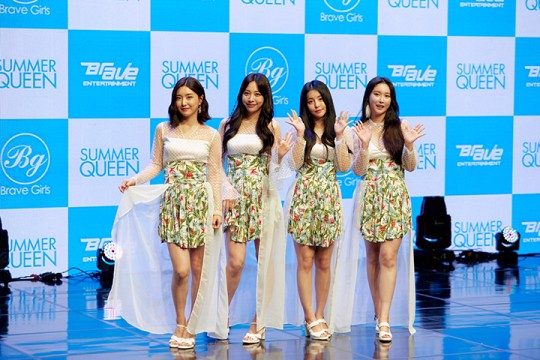 The Brave Girls are back, aiming to top the charts.
Brave Girls released their 5th mini-album 'Summer Queen' at 6 pm on June 17th. The Brave Girls members had a showcase performance at Ilji Art Hall on the same day. They presented a new song performance and shared various stories about the album.
Brave Girls' new title song, 'Chi Mat Ba Ram,' is a tropical house-based dance song suitable for summer. It has a cool sound starting from the intro and an addictive melody. In addition, they will cool down the hot summer with wave dance and skirt dances, which are refreshing just by looking at them. At the same time, they will hit the music world once again with popular performances.
The title song, 'Chi Mat Ba Ram,' is a dance-pop genre song with addictive guitar loops and an upbeat rhythm. The album includes songs with a summer feel. It features 'Pool Party (Feat. E-Chan of DKB),' 'Summer By Myself' with an exciting rhythm, lyrical melody, and cool voices of the members, and 'FEVER' with a retro analog synth and groovy rhythm combining disco and funky sound. In addition, there is an english version of the title song 'Chi Mat Ba Ram' in the album.
Brave Girls Minyoung said, "'Summer Queen' is a concept that members want to do daily." She expressed her ambition to meet the public's expectations. She said, "It is also an album that captures what the public wants from us."
Eunji expressed her gratitude towards the fans. She said, "The music video came out from behind the stage. So, I was about to cry as I watched the scene."
Brave Girls, who were the ones who caused the craze to run backward on the Korean music charts, also revealed the pressure of having a new album.
Yujeong said, "I feel even more grateful because it's going well. I didn't want to do it anymore because I thought I couldn't go on stage after 'We Ride,' but now I'm grateful to be on stage even though I can't sleep and have lots of schedule.
She continued, "It wasn't without pressure. It's the first time since my debut that I've received so much attention from so many people."
Finally, the Brave Girls left a confident message for fans to watch their future moves.
Minyoung said, "With this album as an opportunity, I want to become a 'summer queen' literally like the album title. We want to be a group that comes to your mind when you think of 'summer.'"
As of now, Brave Girls, who made their comeback on June 17th, will continue to meet their fans through various music activities.
Read More About: BTS J-Hope 'Chicken Noodle Soup' Tops Genius Korea Hip-Hop Chart
2021 kpop news
,
2021 kpop updates
,
Brave girls
,
brave girls chi mat ba ram
,
Brave Girls_Eunji
,
brave girls_minyoung
,
brave girls_summer queen
,
Brave Girls_Yujeong
,
bravegirls
,
bravegirls_Yuna
,
KPOP
,
Kpop 2021
,
Kpop artist
,
Kpop artists
,
Kpop Bravegirls
,
Kpop idols
,
Kpop news
,
Kpop trend
,
Kpop trending
,
KPop trending news
,
Kpop trending now
,
kpop trending update
,
kpop_brave girls
,
kpop_brave grirls
,
KPOP2021
,
Kpopall
,
KPOPIDA
,
KPOPNEWS
,
Trending
,
trending 2021
,
trending kpop
,
Trending Kpop news
,
trending kpop update
,
trending news
,
trending update kpop