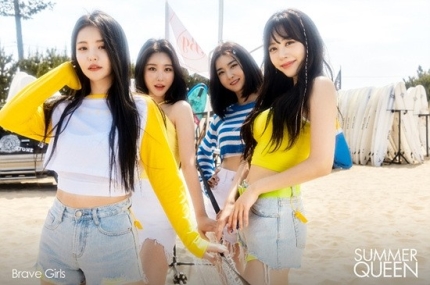 Brave Girls proved their unrivaled popularity. 

Brave Girls released their 5th mini-album, 'Summer Queen' on June 17th. The music video for the title song 'Chi Mat Ba Ram' achieved 20 million views on YouTube. 

This is a record of only 3 days. They are showing off their undying popularity. The music video for 'Chi Mat Ba Ram' has about 24 million views as of 9 am on June 21st. So, it is on the verge of exceeding 30 million views. 

The new album 'Summer Queen' is as the title suggests. They filled it with songs suitable for summer. The songs feel refreshing to hear from start to finish. The Brave Girls took one step closer to their dream with this album.

'Chi Mat Ba Ram' is a tropical house dance song. The bouncy intro featured a cool summer atmosphere. Brave Entertainment's head, 'Brave Brothers,' composed the song.

The addictive point of choreography also stands out. The point choreography is a wave dance and a skirt dance. The choreography includes raising your arms, expressing the cool summer with your body. 

In the meantime, Brave Girls is actively promoting with 'Chi Mat Ba Ram.' 
Read More About: Hyuna, Wearing A Slip Dress, Exposing Her Sexiness
2021 kpop
,
2021 kpop news
,
2021 kpop news updates
,
2021 kpop updates
,
2021 news kpop
,
2021 updates on kpop
,
Brave girls
,
brave girls chi mat ba ram
,
brave girls_summer queen
,
bravegirls
,
KPOP
,
Kpop 2021
,
Kpop artist
,
Kpop artists
,
Kpop Bravegirls
,
Kpop idols
,
Kpop news
,
Kpop trend
,
Kpop trending
,
KPop trending news
,
Kpop trending now
,
kpop_brave girls
,
kpop_brave grirls
,
KPOP2021
,
Kpopall
,
KPOPIDA
,
KPOPNEWS
,
trending kpop
,
Trending Kpop news
,
trending kpop update
,
trending update kpop