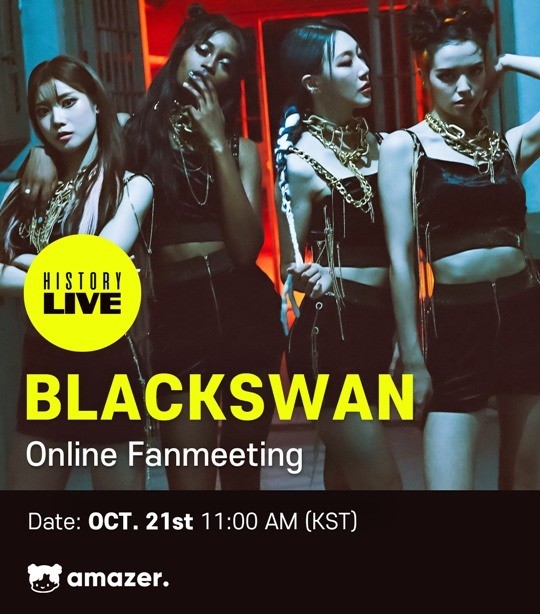 Global Kpop group Blackswan announced a meeting with global fans through the online fan meeting 'BLACKSWAN History Live' at the global Kpop platform Amazer on October 18.
Blackswan is the first K-pop group to feature a four-member multinational girl group with Belgian and Brazilian members. They are attracting the attention of global fans thanks to their ability to speak various languages. They can speak Korean, English, Portuguese, Spanish, Dutch, and French. Last September, they successfully completed a Belgian concert that gathered about 12,000 spectators. They emerged as one of the representatives of the 4th generation girl group. 
Notably, many famous producers have completed the title song 'Close to Me' of Blackswan's single album. It includes Melanie Joy Fontana, who collaborated with renowned domestic and foreign artists such as BTS, BLACKPINK, Dua Lipa, Justin Bieber, and Halsey.
Unlike conventional online concerts, Amazer Live offers a service that combines metaverse. It allows users to decorate cute avatars, wear digital placards, and enter virtual concert halls.
Mainly, the Blackswan online concert 'BLACKSWAN History Live' will showcase a section to communicate with global fans through Amazer's interactive live service with gamification such as real-time O.X quizzes. In addition, Amazer is a platform with more than 96% of users from outside Korea and has secured users from 170 countries worldwide. So, it is raising the expectations of global fans.
This online fan meeting is a special gift from Blackswan for fans worldwide. You can watch the live performance at Amazer for free. In addition, there are special digital packages that can you can only find on Amazer. It includes wake-up call theme voice messages, undisclosed videos, and behind-the-scenes photos that contain the charm of Blackswan.
Kpop group Blackswan's online fan meeting 'BLACKSWAN History Live' will air live worldwide through the Amazer app at 11 am on October 21.
Read More About: Kpop Duo Mind U To Release A New Song On October 21
4+1 project
,
agust d
,
best Kpop girl group
,
best kpop news site
,
best kpopstar
,
Blackpink
,
blackpink Jisoo
,
blackpink member
,
blackpink members
,
Blackpink news
,
BLACKPINK: The Movie
,
breaking news kpop
,
BT21
,
BTS
,
BTS Army
,
BTS BILLBOARD
,
bts butter
,
BTS fancam
,
BTS I'll Be Missing You
,
BTS J-Hope
,
bts jimin
,
bts Jungkook
,
BTS member
,
bts member Jimin
,
BTS member V
,
BTS Members
,
BTS News
,
BTS recent news
,
BTS routine
,
BTS solo songs
,
bts suga
,
BTS trending news
,
BTS UPDATES
,
BTS V
,
daily kpop news
,
Fandom
,
Filter
,
How you like that
,
J-hope
,
Jennie
,
JIMIN
,
Jin
,
Jisoo
,
JUNGKOOK
,
Korean celeb news
,
Korean singer
,
Korean singer songwriter
,
KPOP
,
Kpop album
,
Kpop beauty routine
,
kpop blackpink
,
Kpop boy group
,
KPOP BTS
,
kpop celebrity news
,
Kpop chart and news
,
Kpop colllaboration
,
KPOP comeback
,
Kpop current news
,
kpop daily news
,
Kpop fashion
,
Kpop girls group
,
Kpop idols
,
Kpop issues
,
Kpop latest news
,
Kpop music chart
,
Kpop news
,
Kpop news articles
,
Kpop news sites
,
kpop news update
,
Kpop recent news
,
Kpop skin care routine
,
Kpop skincare routine
,
KPop trending news
,
KPOPNEWS
,
Lisa
,
Love To Hate Me
,
permission to dance
,
Pop-up exhibition
,
RM
,
Rosé
,
Run BTS
,
South Korean singer songwriter
,
SUGA
,
TAEHYUNG KIM
,
The Album
,
the best kpop girl group
,
the best kpop girl group of 2021
,
the best kpop group of 2021
,
the top kpop group
,
top kpop boy group
,
top kpop girl group
,
V
,
weverse magazine
,
YG entertainment