Blackpink member Rose took first place in 'M Countdown' for the last week of March.
On the 25th, Mnet's 'M Countdown' was decorated with 'Club Special' for the new semester of 2021.
On that day, there was no live broadcast stage, and they only present past videos. After the final performance, they revealed the No. 1 candidate for the last week of March.
Blackpink member Rose and Brave Girls competed for the No. 1 spot. The songs 'On the Ground' of Rose and 'Rolin' of Brave Girls are the top picks for No. 1 on Mnet's 'M Countdown.'
But, the first place on that day was Rosé's 'On the Ground.'
The broadcast on that day caught attention with the radio waves of the past without a live broadcast stage.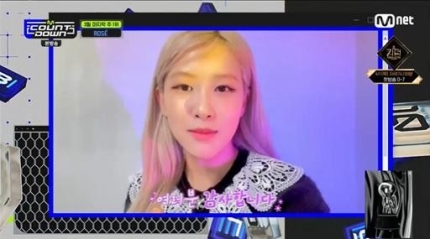 Rose appeared in the video, saying, "It is a great honor, and thank you so much. It is for ranking No. 1 in 'M Countdown.' I really appreciate Teddy for always supporting me and taking care of me from my trainee days until today. I want to say that I am so thankful that I would not have made my solo debut without him."
She added, "Thank you to my beloved family members who always cheered for me. Thanks to the many support from BLACKPINK members, I wasn't lonely."
"My co-Blackpink members. I think I could prepare for my solo like this without being lonely because of their support. And of course, to Blinks, thank you very much. I am so grateful for all that you've done and for cheering me up. I will do my best and come out with more wonderful music in the future."
She expressed her gratitude to the staff, dancers, and family.
Meanwhile, Blackpink Rose is the first K-pop solo artist to reach the top of the American Billboard 'Global Chart.'
Read More About: Rose Of Blackpink Solo Stage Performance In The US
BLACK PINK
,
Blackpink
,
Blackpink Rosé
,
Blackpink_Rosé
,
BlackpinkRosé
,
Brave girls
,
Brave Girls_Rollin
,
Brave_girls_Rollin
,
KPOP
,
Kpop artist
,
Kpop artists
,
Kpop Bravegirls
,
Kpop idols
,
Kpop news
,
Kpop trending
,
KPop trending news
,
kpop_Blackpink
,
kpop_brave girls
,
KPOP_Rosé
,
Kpopall
,
KPOPIDA
,
KPOPNEWS
,
Kpopstars
,
M Countdown
,
rose blackpink
,
Rose blackpink R
,
rose solo album
,
rose_On the ground
,
Rose_R