Blackpink Rose solo song 'Gone' MV is already out on April 5th.
She is raising expectations through her solo songs, 'Gone' and 'On The Ground.'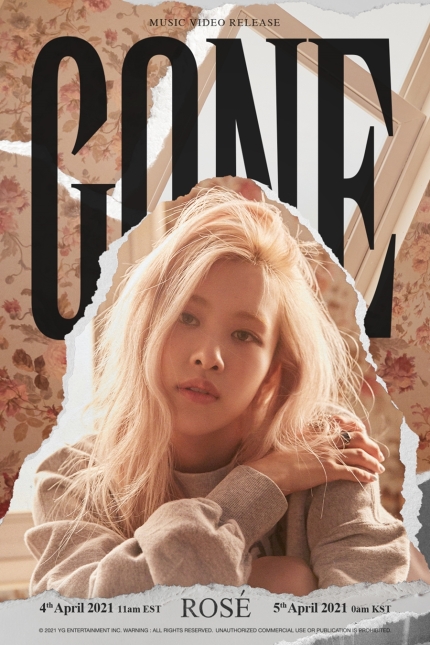 One day before the release of Rose's 'Gone' Music video, YG Entertainment posted a teaser poster showing Rose's appearance on the official blog. It raised the expectations of global fans.
In the poster, Blackpink member Rose wrapped her shoulders with one hand and stared straight ahead with her blank eyes. Her messy hair added a dreamy yet lonely atmosphere, arousing curiosity about the music video's story.
'Gone' is a subtitle song of Rosé's solo album 'R.' The song conveys the last time to reach out to the lover who left. The guitar-oriented minimalist arrangement and Rosé's appealing voice were impressive and received favorable reviews.
The 33-second 'Gone' teaser video released before Black Pink's live stream concert in January garnered great interest. It exceeds 50 million views on YouTube.
Blackpink Rosé's vocals and refined acting expressed inner sadness with various emotions. It captivated the eyes and ears of fans. They implied several metaphors in this music video, which enhances the viewer's sense of immersion.
This MV has a different sensibility than the 'On The Ground' music video, which has a brilliant and magnificent visual beauty. This music video is expected to become the ledge of the long-run popularity of 'Gone.'
Meanwhile, 'On The Ground,' the title track of Rosé's first solo album 'R,' reached the top of the iTunes Top Songs chart in 51 countries. Also, the song rose to No. 1 on the Billboard Global 200 chart in the US. It recorded the highest-ranking of all-time K-pop female soloists on the Billboard Hot 100 in the US. In addition, it holds the highest rank in 100 Official Singles in the UK.
Read More About: Blackpink Rose Showed Her 32.48 Million Won Fashion
BLACK PINK
,
Blackpink
,
blackpink member
,
Blackpink news
,
Blackpink Rosé
,
Blackpink_Rosé
,
Blackpink's Rosé
,
BlackpinkRosé
,
Kpop artist
,
Kpop artists
,
Kpop idols
,
Kpop news
,
Kpop trending
,
KPop trending news
,
KPOP2021
,
KPOPIDA
,
KPOPNEWS
,
Kpopstars
,
On the Ground_rose
,
Rose
,
rose blackpink
,
Rose blackpink R
,
rose solo album
,
Rose_ on the ground
,
rose_On the ground
,
Rose_R