Kpop group BLACKPINK, which has the largest number of YouTube subscribers among artists in the world, is continuing its streak of billions of views every day.
According to YG Entertainment, on October 30, the music video for BLACKPINK's 1st full-length album title song 'Lovesick Girls' surpassed 500 million views on YouTube at 11:49 pm the day before. It's been about a year and a month since its release, and it's BLACKPINK's 11th video surpassing 500 million views.
This song features a country-style guitar sound with a lyric melody and powerful BLACKPINK vocals. In fact, Jisoo and Jennie participated in the lyrics and composition of the song. Unlike previous popular works for their intense performance-oriented composition and directing, the mature inner performances of the members stood out.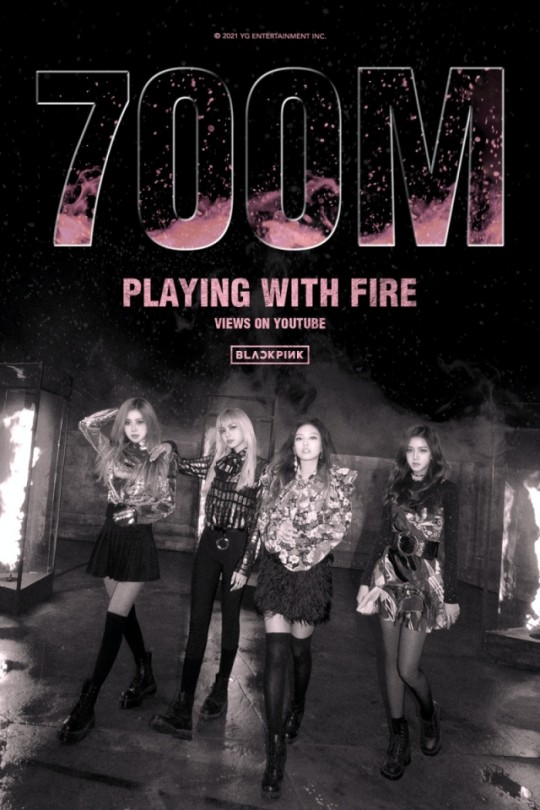 The music video for 'Playing with Fire,' one of the double title songs of BLACKPINK's second digital single, 'SQUARE TWO,' also surpassed 700 million views on YouTube at 12:55 am on the same day. It has been five years since its release. But, it has captured the hearts of fans worldwide. In fact, it is a song that has revived BLACKPINK's girl-crush charm.
With this, BLACKPINK has achieved 'Playing With Fire' and 'DDU-DU DDU-DU' with 1.7 billion views,' 'Kill This Love' with 1.4 billion views, 'Boombayah' with 1.2 billion views, 'As If It's Your Last' with 1 billion views, 'How You Like That' music video with 900 million views and performance video with 800 million views, and 'Whistle' and Jennie's solo songs 'SOLO' with 700 million views. In fact, this is the highest record for a Kpop artist.
BLACKPINK's performance on YouTube, which has a total of 32 billion views, is quite unique. The cumulative number of videos has exceeded 20.7 billion. Also, the number of subscribers to their official YouTube channel is currently 68.8 million. They ranked first in the field among male and female artists around the world. In addition, individual members and BLACKPINK have a total of 250 million Instagram followers.
With this powerful ripple effect, Kpop group BLACKPINK is taking the lead in various social contribution activities. It includes being the UN SDGs (Sustainable Development Goals) ambassador. Also, they participate and donate in various public interest campaigns. On November 1 and 2, the 26th UN Conference on Climate Change (COP26) will deliver messages encouraging awareness of climate change issues and environmental protection at the 26th UN Convention on Climate Change.
Read More About: Youngwoong Lim Ranks 1st In Thw Acha Ranking Male Solo Artist In The 3rd Week Of October
4+1 project
,
best Kpop girl group
,
best kpop news site
,
best kpopstar
,
Blackpink
,
blackpink Jisoo
,
blackpink member
,
blackpink members
,
Blackpink news
,
BLACKPINK: The Movie
,
breaking news kpop
,
crush
,
crush news
,
Crush updates
,
daily kpop news
,
Fandom
,
hip-hop singer Crush
,
How you like that
,
Hyoseob Shin
,
Jennie
,
Jisoo
,
Korean celeb news
,
Korean singer
,
Korean singer songwriter
,
KPOP
,
Kpop album
,
Kpop beauty routine
,
kpop blackpink
,
Kpop boy group
,
kpop celebrity news
,
Kpop chart and news
,
Kpop colllaboration
,
KPOP comeback
,
Kpop current news
,
kpop daily news
,
Kpop fashion
,
Kpop girls group
,
Kpop idols
,
Kpop issues
,
Kpop latest news
,
Kpop music chart
,
Kpop news
,
Kpop news articles
,
Kpop news sites
,
kpop news update
,
Kpop recent news
,
kpop singer crush
,
Kpop skin care routine
,
Kpop skincare routine
,
KPop trending news
,
KPOPNEWS
,
Lisa
,
Love To Hate Me
,
Pop-up exhibition
,
Rosé
,
singer crush
,
Sometimes
,
South Korean singer songwriter
,
The Album
,
the best kpop girl group
,
the best kpop girl group of 2021
,
the best kpop group of 2021
,
the top kpop group
,
top kpop boy group
,
top kpop girl group
,
YG entertainment