Kpop group BLACKPINK member Lisa's Instagram followers surpassed 63 million.
As of October 14, Lisa's official Instagram surpassed 63 million followers.
BLACKPINK Lisa is attracting attention because her first debut solo album song, 'MONEY,' is as popular as the title song 'LALISA.'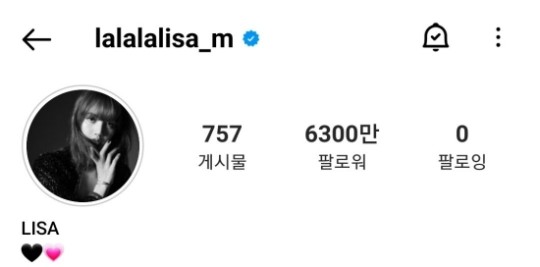 The Kpop female solo artist's entry into the main chart of the pop market with songs in the hip-hop/rap genre is a remarkable achievement. It shows signs of reverse ranking at more than a month since its release.
In fact, Lisa's 'MONEY 'recently entered the top 100 of the UK's official charts single at 81st place. It is the second time after the title song 'LALISA,' which ranked 68th a week after its release. It is the first time that a song from an album by a Kpop female solo artist has made it to this chart.
Even though it was not an album title song, 'MONEY' was popular among global music fans. So, it first stood out on the US Billboard chart. Earlier, Lisa became the first female K-pop artist to top Billboard's 'Rap Digital Song Sales Chart' with 'MONEY.'
Forbes, an economic magazine, said, 'Lisa broke the barrier in the hip-hop market, where American artists are mainstream and achieved a historic achievement. It has proven that there is a foreign rap market in the United States, and I hope this success will pave the way for more musicians."
Amid these achievements, Kpop group BLACKPINK Lisa set a record of exceeding 63 million Instagram followers.
These records show Lisa's extraordinary popularity.
Read More About: BugAboo Unveils Debut Single Album Tracklist
4+1 project
,
best Kpop girl group
,
best kpop news site
,
best kpopstar
,
Blackpink
,
blackpink Jisoo
,
blackpink member
,
blackpink members
,
Blackpink news
,
BLACKPINK: The Movie
,
breaking news kpop
,
daily kpop news
,
Fandom
,
How you like that
,
Jennie
,
Jisoo
,
Korean celeb news
,
Korean singer
,
Korean singer songwriter
,
KPOP
,
Kpop album
,
Kpop beauty routine
,
kpop blackpink
,
Kpop boy group
,
kpop celebrity news
,
Kpop chart and news
,
Kpop colllaboration
,
KPOP comeback
,
Kpop current news
,
kpop daily news
,
Kpop fashion
,
Kpop girls group
,
Kpop idols
,
Kpop issues
,
Kpop latest news
,
Kpop music chart
,
Kpop news
,
Kpop news articles
,
Kpop news sites
,
kpop news update
,
Kpop recent news
,
Kpop skin care routine
,
Kpop skincare routine
,
KPop trending news
,
KPOPNEWS
,
Lisa
,
Love To Hate Me
,
Pop-up exhibition
,
Rosé
,
South Korean singer songwriter
,
The Album
,
the best kpop girl group
,
the best kpop girl group of 2021
,
the best kpop group of 2021
,
the top kpop group
,
top kpop boy group
,
top kpop girl group
,
YG entertainment