Kpop singer Daniel Kang and girl group BLACKPINK member Lisa ranked number one in 'Choeaedol's 'Hall of Fame.'
On November 11, idol popularity ranking service 'Choeaedol' said, "Daniel Kang and Lisa of BLACKPINK emerged as the 74th Charity Angels by ranking first in the cumulative 'Hall of Fame' ranking through passionate votes from fans."
Daniel Kang became a charity angel by taking first place in the cumulative male individual category. This is a record for 27 months in a row. So, Daniel Kang has donated a total of 80 times so far, 44 charity angels and 36 charity fairies. The accumulated donations amount to 40 million won.
Recently, Daniel Kang emerged as the 234th Charity Fairy of 'Choeaedol' by the active voting of the fandom 'Danity' on the 9,100th day of his birth.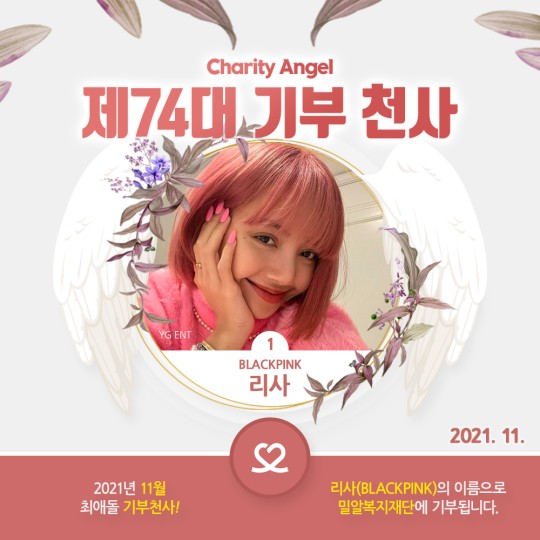 In the female individual category, girl group BLACKPINK member Lisa took first place in the cumulative ranking, achieving seven consecutive records. Lisa has donated 12 million won 24 times, achieving 15 Charity Angels and 9 Charity Fairies so far.
Meanwhile, BTS Jimin and BTS V took third place in the male individual overall ranking. Then, TWICE Tzuyu and BLACKPINK Rosé ranked third in female individual rankings.
Read More About: ENHYPEN Became A 'Million-Selling' Idol Group After A Year Of Debut!
4+1 project
,
agust d
,
best Kpop girl group
,
best kpop news site
,
best kpopstar
,
Blackpink
,
blackpink Jisoo
,
blackpink member
,
blackpink members
,
Blackpink news
,
BLACKPINK: The Movie
,
breaking news kpop
,
BT21
,
BTS
,
BTS Army
,
BTS BILLBOARD
,
bts butter
,
BTS fancam
,
BTS I'll Be Missing You
,
BTS J-Hope
,
bts jimin
,
bts Jungkook
,
BTS member
,
bts member Jimin
,
BTS member V
,
BTS Members
,
BTS News
,
BTS recent news
,
BTS routine
,
BTS solo songs
,
bts suga
,
BTS trending news
,
BTS UPDATES
,
BTS V
,
daily kpop news
,
Fandom
,
Filter
,
How you like that
,
J-hope
,
Jennie
,
JIMIN
,
Jin
,
Jisoo
,
JUNGKOOK
,
Korean celeb news
,
Korean singer
,
Korean singer songwriter
,
KPOP
,
Kpop album
,
Kpop beauty routine
,
kpop blackpink
,
Kpop boy group
,
KPOP BTS
,
kpop celebrity news
,
Kpop chart and news
,
Kpop colllaboration
,
KPOP comeback
,
Kpop current news
,
kpop daily news
,
Kpop fashion
,
Kpop girls group
,
Kpop idols
,
Kpop issues
,
Kpop latest news
,
Kpop music chart
,
Kpop news
,
Kpop news articles
,
Kpop news sites
,
kpop news update
,
Kpop recent news
,
Kpop skin care routine
,
Kpop skincare routine
,
KPop trending news
,
KPOPNEWS
,
Lisa
,
Love To Hate Me
,
permission to dance
,
Pop-up exhibition
,
RM
,
Rosé
,
Run BTS
,
South Korean singer songwriter
,
SUGA
,
TAEHYUNG KIM
,
The Album
,
the best kpop girl group
,
the best kpop girl group of 2021
,
the best kpop group of 2021
,
the top kpop group
,
top kpop boy group
,
top kpop girl group
,
V
,
weverse magazine
,
YG entertainment