Kpop group BLACKPINK's 'Kill This Love' music video has surpassed 1.5 billion views on YouTube.
According to YG Entertainment, on January 26, BLACKPINK's 'Kill This Love' music video surpassed 1.5 billion YouTube views at 6:39 pm the previous day.
It has been about two years and nine months since its release on YouTube. It shows the steady love of global fans.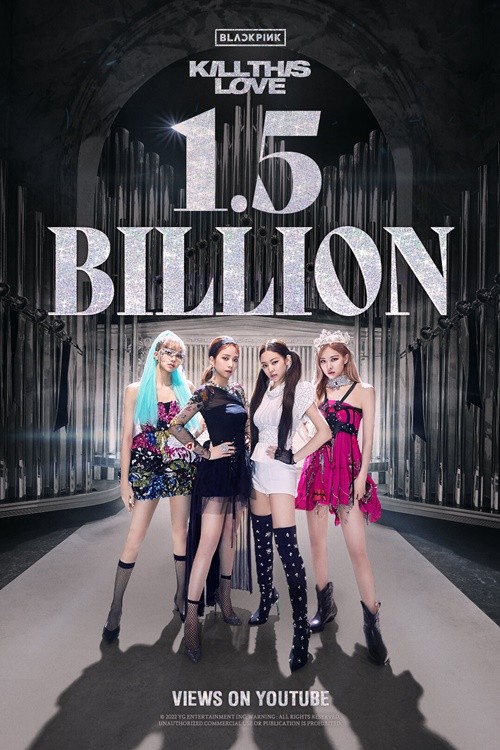 As a result, BLACKPINK produced the second music video with more than 1.5 billion views. Earlier, their 'DDU-DU DDU-DU' was a mega-hit, and the music video is currently approaching 1.8 billion views.
Psy and BLACKPINK are the only artists with music videos with more than 1.5 billion views in Korea. Among them, BLACKPINK's 'Kill This Love' surpassed Psy's 'Gentleman' (1.4 billion views) released in 2013. It became the 3rd most viewed Kpop music video. Considering that they released the MV for 'Kill This Love' in 2019, the trend of increase in views is record-breaking.
'Kill This Love' is a song with strong lead bass and magnificent drum sound. The music video captured the hearts of fans worldwide with BLACKPINK's powerful yet charismatic dance lines and sophisticated charms.
Notably, the action, like shooting a long gun and the addictive point choreography, were impressive. Also, it was the only Kpop in the 'Top 10 Most Viewed Music Videos in the World in 2019.'
The soundtrack also achieved remarkable results. In the first week of its release, the song reached #41 and #24 on the US Billboard's main chart, Hot 100 and Billboard 200, respectively, replacing the top Kpop girl group on the charts at the time. In addition, on Spotify, the world's largest music platform, it is the only Kpop girl group to surpass 500 million streams.
Meanwhile, there are a total of 32 videos of Kpop group BLACKPINK with billions of views posted on YouTube. The cumulative number of views of the content has been recorded by more than 22.2 billion. Also, their YouTube subscribers have now exceeded 71.7 million, making BLACKPINK the world's top artist in this field.
Read More About: JYP Entertainment Announces New Girl Group NMIXX, Set To Debut In February
2022 kpop trending
,
2022 kpop updates
,
2022 latest news
,
4+1 project
,
best Kpop girl group
,
best kpop news site
,
best kpopstar
,
Blackpink
,
blackpink Jisoo
,
blackpink member
,
blackpink members
,
Blackpink news
,
BLACKPINK: The Movie
,
breaking news kpop
,
daily kpop news
,
Fandom
,
How you like that
,
Jennie
,
Jisoo
,
Korean celeb news
,
Korean singer
,
Korean singer songwriter
,
KPOP
,
kpop 2022
,
KPOP 2022 NEWS
,
Kpop album
,
Kpop beauty routine
,
kpop blackpink
,
Kpop boy group
,
kpop celebrity news
,
Kpop chart and news
,
Kpop colllaboration
,
KPOP comeback
,
Kpop current news
,
kpop daily news
,
Kpop fashion
,
Kpop girls group
,
Kpop idols
,
Kpop issues
,
Kpop latest news
,
Kpop music chart
,
Kpop news
,
Kpop news articles
,
Kpop news sites
,
kpop news update
,
Kpop recent news
,
Kpop skin care routine
,
Kpop skincare routine
,
KPop trending news
,
KPOPNEWS
,
Lisa
,
Love To Hate Me
,
Pop-up exhibition
,
Rosé
,
South Korean singer songwriter
,
The Album
,
the best kpop girl group
,
the best kpop girl group of 2021
,
the best kpop group of 2021
,
the top kpop group
,
top kpop boy group
,
top kpop girl group
,
YG entertainment