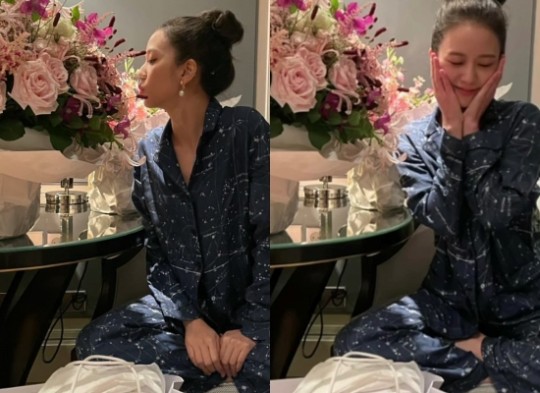 Kpop group BLACKPINK member Jisoo's beauty attracts attention.
Jisoo posted two photos on her Instagram on September 28.
In the photo, Jisoo is wearing pajamas and posing cutely.
Her extraordinary beauty attracted the attention of fans.
Meanwhile, Kpop group BLACKPINK will participate in the 'Dear Earth' campaign event that will take place on YouTube Originals on October 23 (US time).
'Dear Earth' is a campaign designed around climate change. World leaders such as Pope Francis, former US President Barack Obama, and CEO of Google/Alphabet Sundar Pichai will join the event.
Read More About: ITZY, New Song 'LOCO' MV Hits 50 Million Views
4+1 project
,
best Kpop girl group
,
best kpop news site
,
best kpopstar
,
Blackpink
,
blackpink Jisoo
,
blackpink member
,
blackpink members
,
Blackpink news
,
BLACKPINK: The Movie
,
breaking news kpop
,
daily kpop news
,
Fandom
,
How you like that
,
Jennie
,
Jisoo
,
Korean celeb news
,
Korean singer
,
Korean singer songwriter
,
KPOP
,
Kpop album
,
Kpop beauty routine
,
kpop blackpink
,
Kpop boy group
,
kpop celebrity news
,
Kpop chart and news
,
Kpop colllaboration
,
KPOP comeback
,
Kpop current news
,
kpop daily news
,
Kpop fashion
,
Kpop girls group
,
Kpop idols
,
Kpop issues
,
Kpop latest news
,
Kpop music chart
,
Kpop news
,
Kpop news articles
,
Kpop news sites
,
kpop news update
,
Kpop recent news
,
Kpop skin care routine
,
Kpop skincare routine
,
KPop trending news
,
KPOPNEWS
,
Lisa
,
Love To Hate Me
,
Pop-up exhibition
,
Rosé
,
South Korean singer songwriter
,
The Album
,
the best kpop girl group
,
the best kpop girl group of 2021
,
the best kpop group of 2021
,
the top kpop group
,
top kpop boy group
,
top kpop girl group
,
YG entertainment