Kpop group BLACKPINK member Jisoo proved her popularity by ranking No. 1 in 'female idols that are likely to make their daily life a pictorial.'
From November 17 to November 24, 'Choeaedol' conducted a voting under the theme of 'Who's girl idol do you think will make their daily life a pictorial?'
As a result of the vote, BLACKPINK member Jisoo topped the list.
Jisoo garnered 12,179 votes. So, these results show her extraordinary popularity.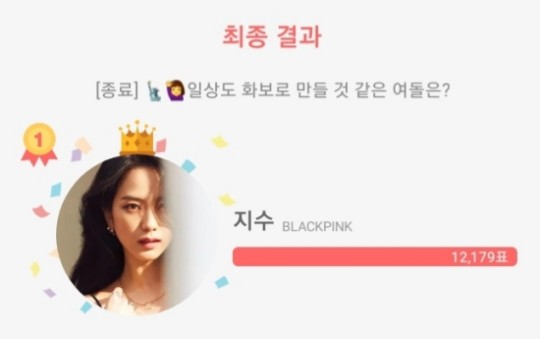 Meanwhile, Kpop group BLACKPINK's official YouTube channel subscribers surpassed 70 million. It is the first and highest record among all artists in the world.
According to YG Entertainment, on November 28, the number of subscribers to BLACKPINK's official YouTube channel exceeded 70 million at 11:34 am that day. It has been about five years and five months since BLACKPINK opened its channel on June 28, 2016.
BLACKPINK was the first non-English-speaking artist to be listed in the 'Top 5 YouTube Subscribers' in July 2020, showing off its strong presence. Since then, they have surpassed famous pop stars such as Ariana Grande, Eminem, Ed Sheeran, Marshmello, and Justin Bieber in turn, finally becoming the world's strongest YouTube player on September 10.
Read More About: Momoland Took The 'Best Choice Award' At The 2021 Asia Artist Awards
4+1 project
,
best Kpop girl group
,
best kpop news site
,
best kpopstar
,
Blackpink
,
blackpink Jisoo
,
blackpink member
,
blackpink members
,
Blackpink news
,
BLACKPINK: The Movie
,
breaking news kpop
,
daily kpop news
,
Fandom
,
How you like that
,
Jennie
,
Jisoo
,
Korean celeb news
,
Korean singer
,
Korean singer songwriter
,
KPOP
,
Kpop album
,
Kpop beauty routine
,
kpop blackpink
,
Kpop boy group
,
kpop celebrity news
,
Kpop chart and news
,
Kpop colllaboration
,
KPOP comeback
,
Kpop current news
,
kpop daily news
,
Kpop fashion
,
Kpop girls group
,
Kpop idols
,
Kpop issues
,
Kpop latest news
,
Kpop music chart
,
Kpop news
,
Kpop news articles
,
Kpop news sites
,
kpop news update
,
Kpop recent news
,
Kpop skin care routine
,
Kpop skincare routine
,
KPop trending news
,
KPOPNEWS
,
Lisa
,
Love To Hate Me
,
Pop-up exhibition
,
Rosé
,
South Korean singer songwriter
,
The Album
,
the best kpop girl group
,
the best kpop girl group of 2021
,
the best kpop group of 2021
,
the top kpop group
,
top kpop boy group
,
top kpop girl group
,
YG entertainment