Next to the video of 'Climate Action in Your Area', in which Blackpink exerted a good influence around the world, another step was taken to raise awareness of climate change.
Blackpink received a handwritten letter from British Prime Minister Boris Johnson at a ceremony for the appointment of a public relations ambassador, for the United Nations General Assembly of the Parties on Climate Change (COP26) held at the British Embassy in Seoul on the 25th. Prime Minister Johnson congratulated the success of Blackpink's video and asked him to join the UK, which became the chairman of the United Nations Conference on Climate Change, to raise awareness of climate change globally.
"Your 'Climate Action In Your Area #COP26' video has been viewed over 10 million times on social media and has been a tremendous success," said Prime Minister Boris Johnson, who wrote a personal letter in the name of each Blackpink member. Climate change is the most important thing for our generation. He said, "It is very welcome for you to speak up about an important issue at this time."
"The first step is to study climate change ourselves. Climate change affects all of us, so we need to know what's going on. We want to learn more, and our fans join us. I hope you do it." said Blackpink.
"The British Embassy in Korea is very pleased to be with Blackpink and YG Entertainment ahead of COP26. We must act now to save the planet for future generations. "We hope that all of you BLINK will join us on our journey," said Simon Smith.
The video mentioned in the previous letter was produced by Blackpink with the British Embassy in Korea and was introduced at the Climate Ambition Summit 2020 held in December last year. The online conference, co-hosted by Britain, the United Nations and France, was also attended by Prime Minister Boris Johnson, UN Secretary-General Antonio Guterres and world leaders such as President Moon Jae-in.
Through the video, Blackpink mentioned the necessity of preserving the rapidly disappearing natural habitats of the Earth, raising awareness of climate change and encouraging the protection of the natural environment. It also emphasized the importance of the United Nations Conference on Climate Change (COP26), which the UK will host in November 2021.
Blackpink has solidified its position as a global girl group through active activities with the album 'The Album,' which was released in October last year. The number of subscribers to Blackpink's YouTube channel exceeded 57 million, making it the second-largest artist in the world. This is the reason why Blackpink's encouragement boasts a powerful ripple effect and has great power.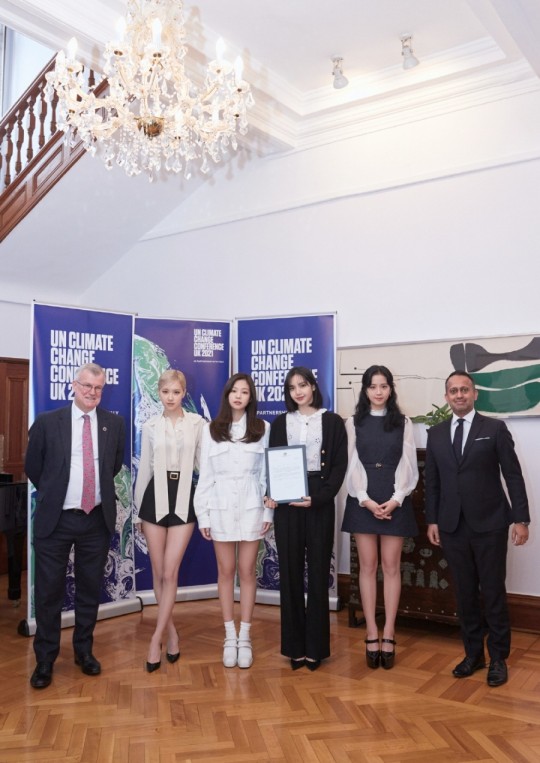 Black Pink, recently successfully completed their live stream concert called 'The Show'. Global music fans' expectations have grown even further as the sub-title song "GONE" of Rosé's solo album was released during the live concert.
Read More About:
BTS, Blackpink, EXO, and other K-Pop Fans Campaigning 'Save The World'
BTS And Black Pink Were Mentioned By US Minister Blinken