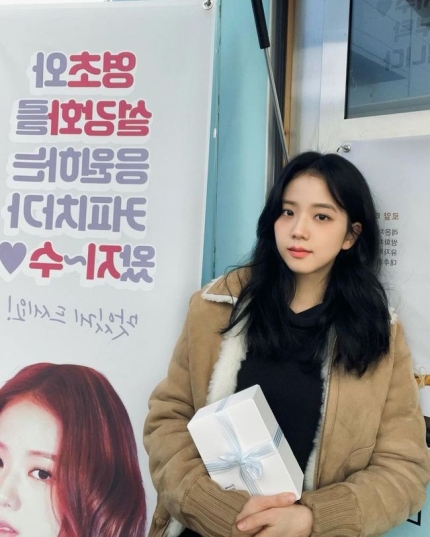 Singer and actress Blackpink's Jisoo showed off the coffee truck sponsored by her agency on her personal Instagram. YG Entertainment sent the coffee truck to the open drama set to support her on March 4th.
In the photo, Jisoo has a slight smile with gratitude towards YG, standing in front of the coffee truck that has the standing banner with "Coffee truck arrived to support 'Youngcho'(Her character) and 'Snow Drop' ('Seolganghwa' in Korean, JTBC drama)". Her innocent beauty and smile of joy captured viewers' attention.
Jisoo debuted with her digital single album 'SQUARE ONE' in 2016, and has gained even more popularity with her first full-length album 'The Album' released on October 2nd of 2020.
Recently, she is filming the JTBC drama 'Snowdrop(Tentative title)', which is scheduled to air this year (2021). Jisoo took on the role of Youngcho Eun, a freshman at Lake Women's University, who is a lively and cute student at the English department in the university.
Earlier, Jisoo has proven her acting ability by appearing on KBS 2TV 'Producer' and tvN drama series 'Arthdal Chronicles'.