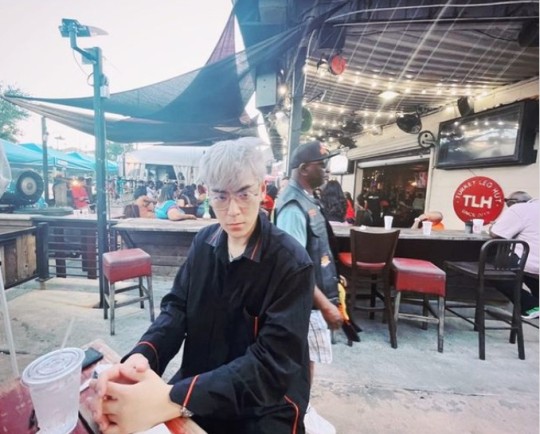 Kpop group BIGBANG member T.O.P attracts attention with a completely different look.
T.O.P posted a picture of himself on Instagram on October 26.
It looks like a picture taken while traveling abroad. He completed his unique style with a uniquely designed outfit with a hair dyed gray.
Meanwhile, Kpop group BIGBANG member T.O.P is recently delivering updates to his fans through social media. BIGBANG, to which T.O.P belongs, celebrated their 15th-anniversary last August. They have been on hiatus since BIGBANG's 'Flower Road' activities in 2018.
Read More About: BLACKPINK Lisa Achieves 100 Million Streams On Spotify In The Shortest Time Among Kpop Solo Artists
2021 kpop news
,
2021 kpop news updates
,
2021 news kpop
,
Bangchan
,
best kpop news site
,
Bigbang
,
bigbang comeback
,
Bigbang drama
,
BIGBANG G-DRAGON
,
Bigbang Gdragon
,
BIGBANG kpop
,
bigbang members
,
Bigbang news
,
bigbang seungri
,
bigbang taeyang
,
Bigbang TOP
,
Bigbang TV program
,
bigbang updates
,
Bigbang_Daesung
,
Bigbang_News
,
bigbang_Taeyang
,
BTS trending news
,
daily kpop news
,
Korean celeb news
,
KPOP
,
Kpop artist
,
kpop celebrity news
,
kpop daily news
,
Kpop latest news
,
Kpop news
,
Kpop recent news
,
Kpop trending
,
KPop trending news
,
KPOPIDA
,
KPOPNEWS
,
Kpopnews 2021
,
Kpopnews2021
,
latest kpop news
,
recent kpop news
,
Trending
,
trending 2021
,
trending kpop
,
Trending Kpop news
,
trending kpop update
,
trending news
,
trending update kpop