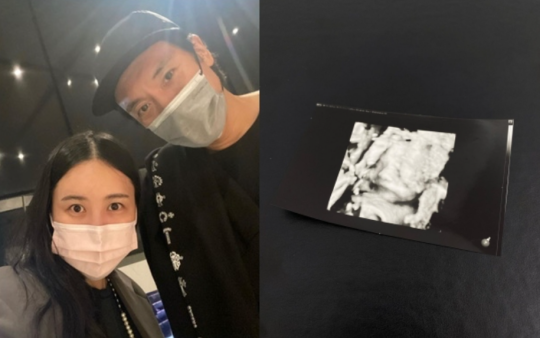 Kpop group BIGBANG member G-Dragon's older sister and fashion entrepreneur Dami Kwon announced that she was pregnant. Dami Kwon posted on her Instagram on November 4, saying, "We will meet our baby two months from now. He's a son that resembles his father. We call him Ttorongie and his name will be Eden [Yi Deun]. Minjoon Kim's baby, Eden Kim," along with an ultrasound picture.
Former announcer Soyoung Kim, who heard the news of the pregnancy of Dami Kwon, who got married in October 2019 to Minjoon Kim, congratulates the couple by commenting, "Precious Ttorongie. He has a name already."
Minjoon Kim is a fashion model that turned into an actor. He appeared on various dramas such as 'Damo' and 'To My Beloved,' and movies such as 'Tazza' and 'The Concubine.'
In fact, Kwon Dami launched the fashion brand Rare Market in 2014 as a fashion entrepreneur and drew attention in 2017 when she was selected as one of the '500 Most Influential Global Trendsetters in the World' by British media Business of Fashion. Also, she became more popular as the elder sister of Kpop group BIGBANG member G-Dragon.
Read More About: Kpop Rapper Yumdda Apologizes For Using Other Artist's Design For His Merchandise
best Kpop girl group
,
best kpop news site
,
best kpopstar
,
BIGBANG G-DRAGON
,
breaking news kpop
,
daily kpop news
,
Fandom
,
G-dragon
,
Jiyong Kwon
,
Korean celeb news
,
Korean singer
,
Korean singer songwriter
,
KPOP
,
Kpop album
,
Kpop beauty routine
,
Kpop boy group
,
kpop celebrity news
,
Kpop chart and news
,
Kpop colllaboration
,
KPOP comeback
,
Kpop current news
,
kpop daily news
,
Kpop fashion
,
Kpop G-DRAGON
,
Kpop girls group
,
Kpop idols
,
Kpop issues
,
Kpop latest news
,
Kpop music chart
,
Kpop news
,
Kpop news articles
,
Kpop news sites
,
kpop news update
,
Kpop recent news
,
Kpop skin care routine
,
Kpop skincare routine
,
KPop trending news
,
KPOPNEWS
,
producer G-DRAGON
,
singer G-DRAGON
,
South Korean singer songwriter
,
the best kpop girl group
,
the best kpop girl group of 2021
,
the best kpop group of 2021
,
the top kpop group
,
top kpop boy group
,
top kpop girl group