Group Big Mama (Minhye Park, Yeonah Shin, Younghyun Lee, Jiyoung Lee) will release a new single, 'One More Day,' through various online music sites at 6 pm on June 24th. This will be their comeback after 9 years.
'One More Day,' composed by the hit maker producing team AIMING, is an R&B ballad song that retains Big Mama's sensibility. The lyrics are impressive, expressing the longing for the lover who left, saying, "I will love you for just one more day."
Particularly, Big Mama is expected to prove its reputation with unrivaled singing skills, beautiful harmony, and sincerity. With so many fans' expectations soaring high, the four members shared various stories about their new song 'One More Day' and their comeback feelings through their agency Kakao Entertainment.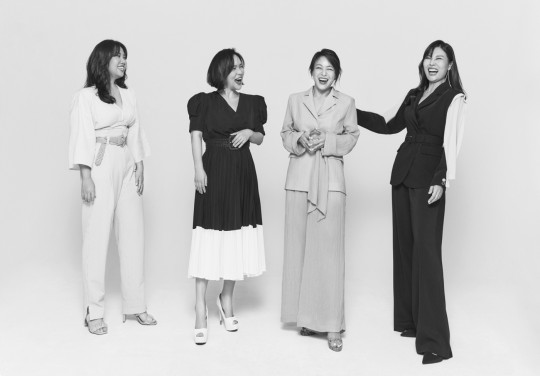 Q. You will release a new song after 9 years. How do you feel?
▶ We are most excited to meet the fans again after a long time. It's been a long time since the 4 members of Big Mama worked together. So, it's a project that we're very nervous and excited about. The chemistry between the members was so good that it felt like 9 years had disappeared. We worked hard to meet the fans with good music, so we hope you enjoy it.
Q. It has a deep meaning that the whole group unites again. How have you been with each other all this time?
▶ It wasn't often, but we saw each other occasionally and shared the news with each other. We worked hard in our respective fields. Although the members who worked solo and the members who married and raised children are different, Big Mama did not live apart from music as its our common denominator.
Q. Existing hit songs are still receiving great love, with 'Resignation' being selected as a contest song for the 'MSG Wannabe' projectin MBC's 'Hangout With You.' The feeling seems to be extraordinary.
▶ It is something we are very grateful for as we have not been active for a long time. Especially to young people these days, Big Mama may be unfamiliar. But, I think it's an honor to be recalled and mentioned Big Mama's name even once again. We want to say thank you to everyone who remembered Big Mama now that we started promoting under the name of Big Mama after a long time.
Q. When recording the new song 'One More Day,' what was the most important part?
▶ The biggest focus was on conveying the sincerity of the song itself. When the singer's sincerity is well conveyed to the public, I think the power of music can only shine.
Q. The newly released profile picture is also attracting a lot of attention. Are there any filming episodes?
▶ It has been a long time since the four of us stood together in front of the camera. But, there was no time gap. I remember chatting and laughing in front of the camera right away. We posed for each other in front of the camera with a sense of enjoyment and monitored photos of other members as well. We finished filming without knowing that time passed. As much as we enjoyed working on it, I think we got satisfactory results.
Q. What kind of activities do you plan to show in the future?
▶ We think Big Mama's most important thing is to communicate with fans with sincere music. If we have a chance, we want to let more people listen to good music and have fun. Also, it is difficult to meet fans in person due to the current situation, but we look forward to meeting fans through performances if the situation improves and allows.
Q. Lastly, please say a word to the fans who have been waiting for you.
▶ We feel sorry for the fans who have been waiting for so long, and we are extremely grateful. We want to tell you that we will work hard to communicate with fans through music with sincerity.
Read More About: Click-B Sanghyuk Kim Mentioned His Ex-Wife On A YouTube Broadcast
2021 kpop
,
2021 kpop girl idols
,
2021 kpop news
,
2021 kpop news updates
,
2021 kpop updates
,
2021 news kpop
,
2021 updates on kpop
,
big mama
,
big mama comeback
,
big mama kpop
,
big mama news
,
big mama update
,
big mama_one more day
,
KPOP
,
Kpop 2021
,
Kpop artist
,
Kpop artists
,
kpop big mama
,
Kpop idols
,
Kpop news
,
Kpop trend
,
Kpop trending
,
KPop trending news
,
Kpop trending now
,
KPOP2021
,
Kpopall
,
KPOPIDA
,
KPOPNEWS
,
Kpopnews 2021
,
Kpopnews2021
,
trending 2021
,
trending kpop
,
Trending Kpop news
,
trending kpop update
,
trending update kpop