Kpop rapper and singer BewhY'S label Dejavu Group will present a variety of music styles.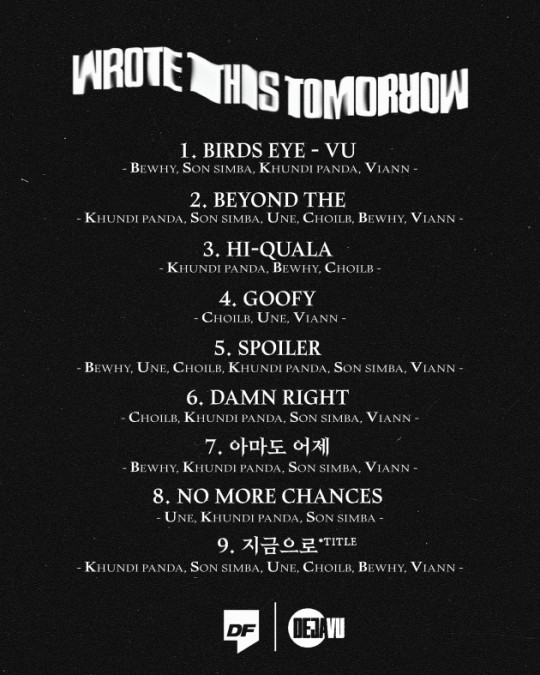 Dejavu Group, headed by Kpop rapper BewhY, will release its first compilation album since its establishment.
Dejavu announced that it would release its first compilation album, 'Wrote This Tomorrow' at 6 pm on August 31st.
This album will contain a total of 9 songs, and the artists participating in each track are all different. So, it will surely give listeners fun to choose from.
Particularly, it is an album jointly produced by Dingo Freestyle and Dejavu Group. They made the pre-entertainment contents entertaining. The video content of the two pre-released tracks, 'Maybe Yesterday' and 'Spoiler,' also received a favorable response for its high production level.
In this album, except for the 8th track, Dejavu group artists composed all songs. For track 8, no2zcat, who worked with UNE, participated in producing, composing, and arranging.
From the dark and refined music style of the existing members BewhY, Khundi Panda, Son Simba, and Viann, many listeners are expecting more bright music styles with the addition of UNE and CHOILB.
Read More About: A.C.E Completes New Album + Unit Photo Released
2021 kpop news
,
2021 kpop updates
,
bEWHY
,
BewhY KPOP
,
BEWHY_032 FUNK
,
BewhY_day day
,
BewhY_forever
,
Dejavu Group
,
KPOP
,
Kpop artist
,
Kpop artists
,
kPOP BewhY
,
kpop BewhY news
,
Kpop idols
,
kpop label Dejavu Group
,
Kpop news
,
kpop rapper BewhY
,
Kpop trend
,
Kpop trending
,
KPop trending news
,
Kpop trending now
,
kpop trending update
,
KPOP2021
,
KPOPIDA
,
KPOPNEWS
,
rapper BewhY
,
trending 2021
,
trending kpop
,
Trending Kpop news
,
trending kpop update
,
trending news
,
trending update kpop