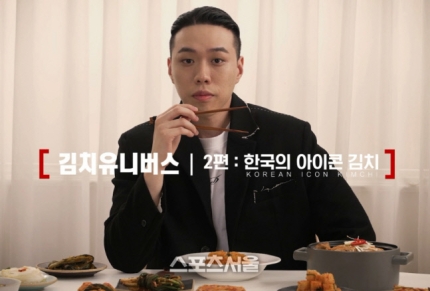 Rapper BewhY started promoting kimchi with Professor Kyungduk Seo.
On August 3rd, rapper BewhY and Sungshin Women's University professor Kyungduk Seo announced that they would produce a multilingual video about 'Kimchi Universe 2: Korean Icon Kimchi' to promote it in Korea and abroad.
This video, co-produced by the World Institute of Kimchi & Daesang Corporation, was first released in Korean and English.
Particularly, the second video is the 'culture' of kimchi following the 'history' of kimchi last April. Rapper BewhY appeared in person to freely communicate with the citizens.
This four-minute video introduces the stories of kimchi that had a great influence on Koreans not only in food culture but also in life culture. Also, the video shows the new culture used as entertainment for young people today. Professor Seo said, "I wanted to spread the right information about kimchi to the world these days. It is timely as people around the world are having some interest in strengthening their immunity due to COVID-19."
Professor Seo also added, "I wanted to promote the status of 'Kimchi master country' by introducing Korea's unique culture about kimchi, such as kimchi class, kimchi break, kimchi forecast, and kimchi bonus." 
Particularly, Professor Seo revealed his future plans, saying, "After the history and culture editions, the third 'global edition' of kimchi is currently being prepared. This time, we plan to produce it with Korean stars."
Professor Kyungduk Seo has been steadily introducing Korea's representative Korean food, such as kimchi, bibimbap, and makgeolli, to the world. He is posting an advertisement for kimchi in the global edition of the New York Times in January.
Read More About: WayV TEN Releases Solo Song 'Paint Me Naked' Through SM Station
2021 kpop news
,
2021 kpop updates
,
bEWHY
,
BewhY KPOP
,
KPOP
,
Kpop 2021
,
Kpop artist
,
Kpop artists
,
kPOP BewhY
,
kpop BewhY news
,
Kpop idols
,
Kpop news
,
KPOP rapper
,
kpop rapper BewhY
,
Kpop trend
,
Kpop trending
,
KPop trending news
,
Kpop trending now
,
kpop trending update
,
KPOP2021
,
Kpopall
,
KPOPIDA
,
KPOPNEWS
,
RAPPER
,
rapper BewhY
,
Trending
,
trending 2021
,
trending kpop
,
Trending Kpop news
,
trending kpop update
,
trending news
,
trending update kpop