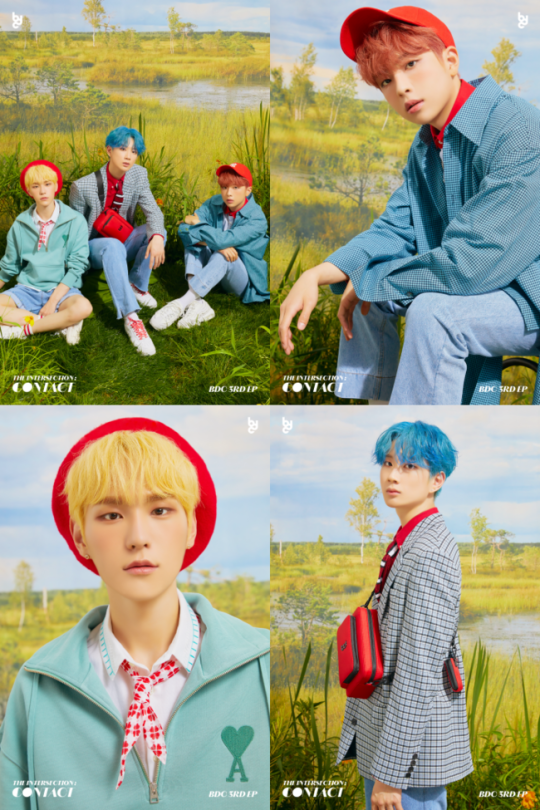 The three-member group BDC (Sihoon Kim, Seongjun Hong, Junghwan Yoon) released the last concept photo of their 3rd Extended Play (EP) album.
Brand New Music released the third and final concept photo of BDC 3RD EP album 'THE INTERSECTION: CONTACT,' through the group's official social media channels on June 18th.
In the released image, BDC is sitting in a green field in a boyish casual costume and staring at the camera with a pure expression. In each member's individual image, Sihoon Kim showed off his chic pose by adding a boyish look with a red ball cap. While Seongjun Hong showed a dreamy look with a red beret and a colorful scarf. Lastly, Junghwan Yoon matched red-tone lively items with vintage jackets to excite fans with his look.
From next week, BDC is planning to release full-scale pre-promotional contents such as tracklist, lyric teaser, comeback spoiler, and music video teaser one after another.
BDC will release their 3RD EP 'THE INTERSECTION: CONTACT' on June 30th at 6 PM. At 8 pm on the release date, the group will conduct a special live broadcast to commemorate their comeback on BDC's official YouTube channel.
Read More About: SURL Solo Concert In July, Ticket Sale Starts June 18
2021 kpop
,
2021 kpop news
,
2021 kpop news updates
,
2021 kpop updates
,
2021 news kpop
,
2021 updates on kpop
,
BDC
,
bdc comeback
,
bdc comeback album
,
bdc kpop news
,
KPOP
,
Kpop 2021
,
Kpop artist
,
Kpop artists
,
kpop bdc
,
Kpop idols
,
Kpop news
,
Kpop trend
,
Kpop trending
,
KPop trending news
,
Kpop trending now
,
kpop trending update
,
KPOP2021
,
Kpopall
,
KPOPIDA
,
KPOPNEWS
,
Kpopnews 2021
,
Trending
,
trending 2021
,
trending kpop
,
Trending Kpop news
,
trending kpop update
,
trending news
,
trending update kpop