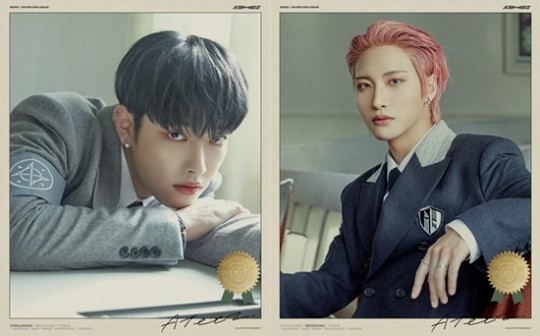 The Kpop group ATEEZ has released all the individual concept photos of the eight members.
ATEEZ has sequentially presented individual concept photos for each member of the title song 'Turbulence' of their first EP 'ZERO: FEVER EPILOGUE' through their official social media since November 30.
The published photos are in the style of graduation albums. The ATEEZ members used school caps, name tags, and emblems with the school building in the background, evoking memories and sympathy. The photos in the classroom with a slightly colored touch are reminiscent of a teen movie.
Hongjoong is wearing an armband with the 'Captain' logo, which symbolizes the team leader. He is laying on his desk in the sunlight and staring at the camera. Seonghwa is wearing a navy jacket boasting distinct features with an utterly turned-back hairstyle. 
Also, ATEEZ Yunho and Yeosang clench their chins and show their languid eyes, stimulating fans' excitement.
Next, San and Mingi caught the attention of fans with their blue and gray hair colors, respectively.
Then, Wooyoung gave a dark afterglow with his beautiful eyes. Also, ATEEZ's youngest member, Jongho, shows intense charisma and arouses a hot reaction.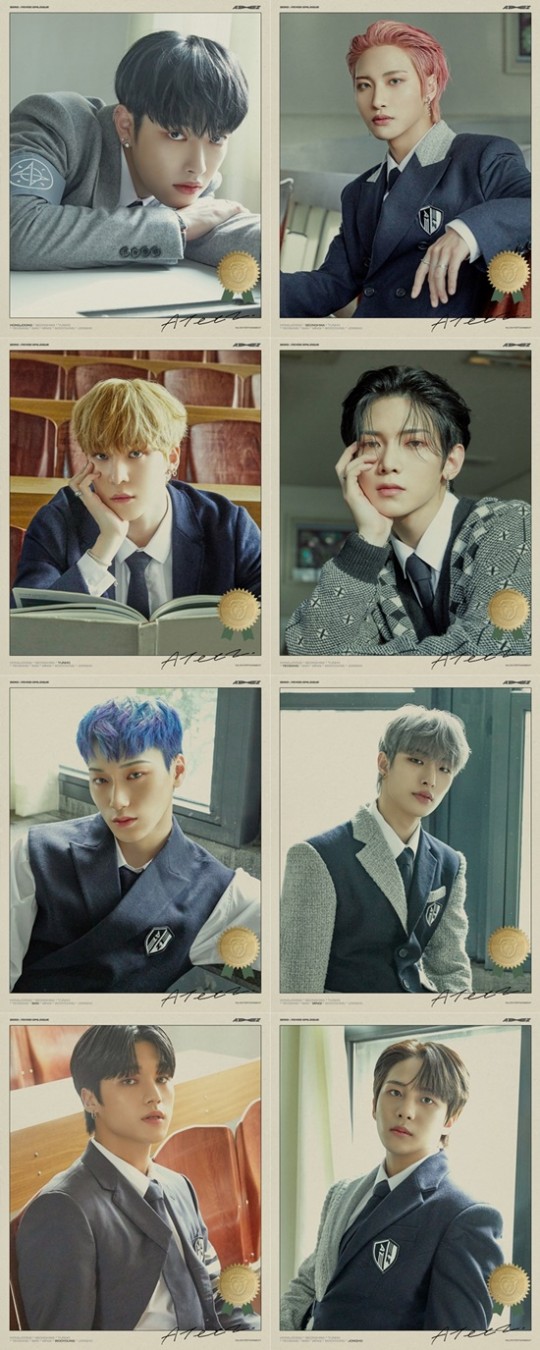 In this way, the eight members showed an immersion in 'Zero: Fever Epilogue' by perfectly digesting the school look as graduates who mark the end of the 'Fever' series.
Kpop group ATEEZ will release their first EP, 'Zero: Fever Epilogue' on December 10 and attend '2021 Mnet ASIAN MUSIC AWARDS' on December 11.
Read More About: Imfact Taeho To Enlist In The Military On December 14
'The Man of the Pirate King'
,
AOMG artist
,
Ateez
,
ATEEZ members
,
ATEEZ news
,
best Kpop girl group
,
best kpop news site
,
best kpopstar
,
breaking news kpop
,
daily kpop news
,
Dreamers
,
Fandom
,
Fireworks (I'm The One)
,
GRAY
,
Gray comeback
,
GRAY updates
,
grayground.
,
Korean celeb news
,
Korean singer
,
Korean singer songwriter
,
KPOP
,
Kpop album
,
kpop ATEEZ
,
Kpop beauty routine
,
Kpop boy group
,
kpop celebrity news
,
Kpop chart and news
,
Kpop colllaboration
,
KPOP comeback
,
Kpop current news
,
kpop daily news
,
Kpop fashion
,
Kpop girls group
,
KPOP GRAY
,
Kpop idols
,
Kpop issues
,
Kpop latest news
,
Kpop music chart
,
Kpop news
,
Kpop news articles
,
Kpop news sites
,
kpop news update
,
Kpop recent news
,
Kpop skin care routine
,
Kpop skincare routine
,
KPop trending news
,
KPOPNEWS
,
Mnet
,
Mnet program
,
MNET SHOW
,
Mnet TMI News
,
rapper GRAY
,
Season Songs
,
Seonghwa Lee
,
singer GRAY
,
South Korean singer songwriter
,
the best kpop girl group
,
the best kpop girl group of 2021
,
the best kpop group of 2021
,
the top kpop group
,
TMI NEWS
,
top kpop boy group
,
top kpop girl group
,
WONDERLAND
,
Zero: FEVER Part.2