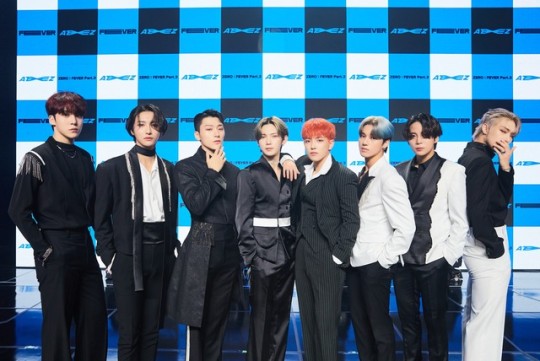 On September 13th, ATEEZ will release their 7th mini-album, 'ZERO: FEVER Part.3.'

The Kpop group ATEEZ has included the freshness and passion of youth in its new album. The colorful music and performances show why ATEEZ is the trend.

ATEEZ held an online showcase at 4 pm on September 13th to release its 7th mini-album, 'ZERO: FEVER Part.3.'
ATEEZ is confident that this was the album they paid more attention to details because it was their first activity since 'Kingdom.'
This album proved their growth with conflicting double title songs 'Eternal Sunshine' and 'Déja Vu.'

The 'FEVER series contains the fever of youth that suddenly comes to everyone. ATEEZ already reached its third story. ATEEZ members sang 'ZERO: FEVER Part.3,' describing the youth reaching the end of a long fever as a mysterious dawn light that lights up the hot sun or the world.

The group said, "The existing worldview continues, but the message is different. This album is about happiness in everyday life that we didn't realize because of our unhappy past and unstable future. If ATEEZ has been as intense as the modifiers 'Mala-taste' and 'Malatiz,' this album challenged things we've never done before."

It is also the process of overcoming confusing and uncertain questions. In 'FEVER' part 2, if the title song 'Fireworks' was red, this time they tried to talk about the youth with blue lights. Youth is like hot sun and mysterious blue light, so they included it in this album. You can feel ATEEZ's conflicting charm through the two title songs.
Eternal Sunshine contains eternal wishes for youth in a refreshing melody. Then, Déja Vu creates a strong and sexy groove with various percussion instruments. These were put forward as double title songs. ATEEZ has two opposite charms, from the retro mosphere to the restrained sexiness.

ATEEZ's 'Eternal Sunshine' is 'a song that expresses the content of you and me together and the youth with warm sunlight with romantic energy.'
'Déja Vu' is a song about an unstoppable longing despite the attraction and confusion of unknown objects. As you listen to the song, you can feel the pleasure of reading a mystery novel. "We expressed a lot of burning flames in an image," ATEEZ said.

The active song is 'Déja Vu.'
As an extension of their catchphrase, "Will you join us?" They held an event to directly select active songs among the double title songs 'Eternal Sunshine' and 'Déja Vu' by fans' votes. As a result, 'Déja Vu' was selected as their active song at the showcase.

The members said, "It would be nice to make an album reflecting the opinions of fans in the sense of creating our own path with fans. 'Déja Vu' is a concept that contains sensual aspects beyond restrained sexiness and maturity. We think it was ATEEZ's first attempt and the atmosphere that fans wanted to see."

In addition to the double title song, various genres such as 'Feeling Like I Do' of the tropical dance-pop genre, intense rock style 'Rocky,' and contemporary urban R&B 'All About You.'
Also, members, Hongjoong and Mingi participated in the lyrics of the entire song. Particularly, Hongjoong participated in composing and arranging two of the six tracks.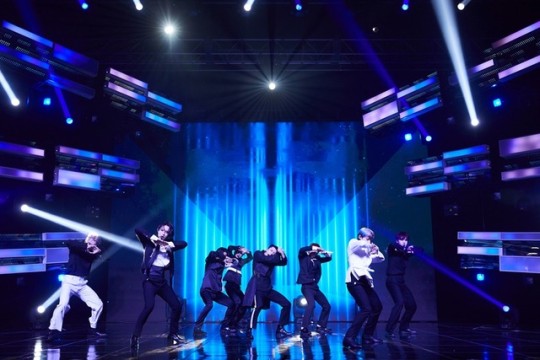 Overall, their spectrum has become wider. This was their first comeback in six months. Going through Mnet's 'Kingdom' helped a lot.

ATEEZ said, "We learned detailed expressions and relaxation while watching our seniors' performances. We think we grew up in the process of fiercely contemplating from face-to-face to the final. As the spectrum widened, we actively expressed our opinion while preparing for the album. Thanks to that, we were able to express it wisely. We think our own identity has become clearer."

Expectations for ATEEZ's new album, which proved the modifier 'performance master' with solid stage composition and live skills every time, are high. They have already become a half-million seller in their last album. Then, this time, they have surpassed 810,000 pre-orders. So, fans are paying attention to whether this album will be the first million-seller.

ATEEZ said, "It's an honor to see records and figures. Thank you. We think the best way we can do to repay you is with better performances in the future. Even if we perform for only a few minutes, the energy and realism you are passionately working on as if it were always the last performance seem to reach the viewers. We will continue to perform like that in the future."

Kpop group ATEEZ will release the new album 'ZERO: FEVER Part.3' at 6 pm on various online music sites on September 13th.
Read More About: WJSN To Release Cover Image & Scheduler For UNIVERSE Song 'Let Me In'
2021 kpop updates
,
Ateex_fireworks
,
Ateez
,
ATEEZ Identity 2021
,
ATEEZ Kpop
,
ateez MEMBER
,
ATEEZ members
,
ateez mingi
,
ATEEZ news
,
ATEEZ updates
,
ateez wooyoung
,
ATEEZ X Jongkook Kim
,
ateez_
,
Ateez_Fireworks
,
ateez_jongho
,
ateez_san
,
ateez_seonghwa
,
ateez_yunho
,
best Kpop girl group
,
best kpop news site
,
best Kpop site
,
best kpopstar
,
Korean celeb news
,
KPOP
,
Kpop artist
,
Kpop artists
,
kpop ATEEZ
,
Kpop boy group
,
Kpop boy idols
,
kpop celebrity news
,
kpop group ATEEZ
,
Kpop idols
,
Kpop latest news
,
kpop latest updates
,
Kpop news
,
Kpop recent news
,
Kpop trend
,
Kpop trending
,
KPop trending news
,
Kpop trending now
,
kpop trending update
,
KPOP2021
,
Kpopall
,
KPOPIDA
,
KPOPNEWS
,
latest kpop news
,
latest kpop updates
,
recent kpop news
,
the best kpop girl group
,
the best kpop girl group of 2021
,
the best kpop group of 2021
,
the boyz
,
top kpop boy group
,
Trending
,
trending 2021
,
trending kpop
,
Trending Kpop news
,
trending kpop update
,
trending news
,
trending update kpop