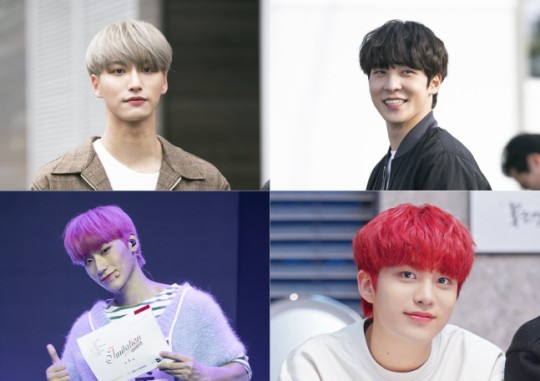 ATEEZ members Seonghwa, Yunho, San, and Jongho, shared their thoughts on the end of KBS2's 'Imitation.'
Seonghwa, Yunho, San, and Jongho appeared on KBS2's drama, 'Imitation.' The drama airs its finale episode on July 23rd. Therefore, they gave their impressions through their agency.
First, Yunho took on the role of 'Yujin' and made his debut as a member of 'Sparkling' in the drama. He was selected as 'Best Male Dance Group,' portraying a character who achieved his dreams. In addition, he made his first acting debut by expressing various aspects of Yujin. It ranges from his love for his friend 'Maha' (Jiso Jung), who had run with him with the same dream, to separation by himself, and to the beginning of new love.
ATEEZ Yunho said, "It feels like the first filming of 'Imitation' was yesterday. But, it's a strange and indescribable feeling to tell you about the ending. Thanks to the good director, staff, and actors all around me who helped me a lot. I was able to learn hard and build meaningful memories. I sincerely thank the many people who liked and supported Yujin."
Next, ATEEZ Jongho plays the youngest member of the top idol group 'Shax' in the drama. He played as 'Hyuk,' which added vitality to the drama. He increased the fun of watching with his chemistry with Dojin (Yuri). Jongho said, "I was very happy to meet the character 'Hyuk.' It's my first drama. So, I put a lot of effort into it, but I hope it's delivered well to viewers. The director and all the staff members, who always spoke many good things throughout the work, worked really hard. Also, I would like to thank our Shax members, Shax manager Daekwon, and all the senior actors. Thank you so much for watching 'Imitation' until the end. I will show you more of my good side as Jongho of ATEEZ in the future."
Then, ATEEZ Seonghwa takes on the role of 'Seyoung,' the leader of the group 'Sparkling.' He mediates with quiet charisma whenever there is a conflict between Yujin and Hyun-oh (Suwoong Lee). He shows consideration for giving up the schedule to Minsoo (San). So, he caught the attention of the viewers enough.
Seonghwa said, "I was really happy to do 'Imitation.' My appearance in the drama was strange and like a dream. I want to say thank you to the director for giving me such a great opportunity and to the production crew who worked harder than anyone while filming. These people gave me a lot of motivation to work harder. It was also a meaningful experience to be able to act with really cool and good seniors. We will become Seonghwa, who will come back with a better image in the future. Thank you very much to the many viewers and our ATINYs who have been watching Imitation."
In addition, ATEEZ San took on the role of 'Minsoo,' who was in charge as the 'enthusiastic fairy' in Sparkling. He is adding to the character's charm with a fresh smile and a dimple. Particularly, in the scene with Seonghwa, he showed natural life acting and was active as a 'new scene-stealer.'
San said, "I hope that many people who challenge themselves with dreams will receive strength through 'Imitation.' I was really nervous when I started acting. But, I have gained unforgettable and valuable experiences in my life. It was an honor to be able to work with such great directors, staff, and seniors. I will try to show you a better image in the future. I am very grateful to the viewers who gave me a lot of love for Imitation," he said affectionately.
In this way, ATEEZ's Seonghwa, Yunho, San, and Jongho, who started various activities by broadening their spectrum to not only singers but also actors. They attract the attention of fans for their future moves by naturally showing their respective characters.
Meanwhile, KBS2's 'Imitation,' which featured ATEEZ's Seonghwa, Yunho, San, and Jongho, ended on July 23rd.
Read More About: SEVENTEEN Drops Special Video For The Song 'Anyone'
2021 kpop
,
2021 kpop news
,
2021 kpop news updates
,
2021 kpop updates
,
2021 news kpop
,
2021 updates on kpop
,
Ateez
,
ATEEZ Kpop
,
ATEEZ news
,
ATEEZ updates
,
ateez_
,
ateez_jongho
,
ateez_san
,
ateez_seonghwa
,
ateez_yunho
,
finale of imitation
,
imitation
,
imitation drama
,
KPOP
,
Kpop 2021
,
Kpop artist
,
Kpop artists
,
Kpop news
,
Kpop trending
,
KPop trending news
,
kpop trending update
,
KPOP2021
,
KPOPIDA
,
KPOPNEWS
,
Trending
,
trending 2021
,
trending kpop
,
Trending Kpop news
,
trending kpop update
,
trending news
,
trending update kpop