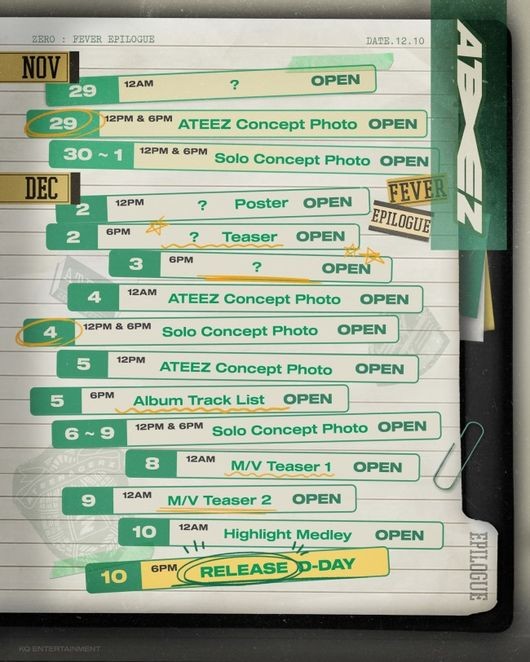 The Kpop group ATEEZ has released a promotional map and started the countdown for their full-fledged comeback. At noon on November 28, ATEEZ released a promotional map of 'ZERO: FEVER EPILOGUE' on their official social media accounts.
The poster in the background of the green diary stimulates curiosity. It shows the full schedule of the release of the group concept photos, individual concept images, tracklist, and highlight medley. The teaser release will start on November 29.
In addition to releasing music video teasers consecutively on December 8 and 9, ATEEZ will release the highlight medley on the day of the comeback, raising the heat of their return.
So, fans are looking forward to what kind of music and performance ATEEZ will come to this time, which proved its position once again with a series of 'best records' through the activities of its 7th mini-album 'Zero: FEVER Part. 3,' released in September.
Kpop group ATEEZ will release 'Zero: Fever Epilogue' at 6 pm on December 10.
Read More About: BLACKPINK Becomes Most Followed Artist On YouTube With Over 70 Million Subscribers
'The Man of the Pirate King'
,
Ateez
,
ATEEZ members
,
ATEEZ news
,
best Kpop girl group
,
best kpop news site
,
best kpopstar
,
breaking news kpop
,
daily kpop news
,
Dreamers
,
Fandom
,
Fireworks (I'm The One)
,
Korean celeb news
,
Korean singer
,
Korean singer songwriter
,
KPOP
,
Kpop album
,
kpop ATEEZ
,
Kpop beauty routine
,
Kpop boy group
,
kpop celebrity news
,
Kpop chart and news
,
Kpop colllaboration
,
KPOP comeback
,
Kpop current news
,
kpop daily news
,
Kpop fashion
,
Kpop girls group
,
Kpop idols
,
Kpop issues
,
Kpop latest news
,
Kpop music chart
,
Kpop news
,
Kpop news articles
,
Kpop news sites
,
kpop news update
,
Kpop recent news
,
Kpop skin care routine
,
Kpop skincare routine
,
KPop trending news
,
KPOPNEWS
,
Season Songs
,
South Korean singer songwriter
,
the best kpop girl group
,
the best kpop girl group of 2021
,
the best kpop group of 2021
,
the top kpop group
,
top kpop boy group
,
top kpop girl group
,
WONDERLAND
,
Zero: FEVER Part.2