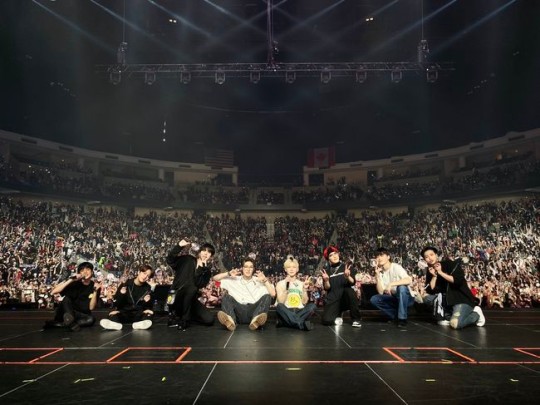 Kpop group ATEEZ is attracting attention with its passionate fan love that has overcome jet lag.
ATEEZ, who is currently working on the 2022 world tour 'THE FELLOWSHIP: BEGINNING OF THE END,' created warmth through real-time communication regardless of time and place.
ATEEZ announced the start of the '2022 World Tour' with a Seoul performance held at the Olympic Hall in Seoul for three days from January 7 to 9. Then, they departed for Chicago, US, the first stop of overseas performances. 
The group arrived there for a rehearsal ahead of the Chicago performance on January 18. The members unpacked their luggage at the accommodation and soon started relaying live broadcasts. ATEEZ, who had a long-distance flight after a long time, mostly stayed in their hotel except for performance hours. They actually appeared in pajamas, which they usually wear or showed a delivery food eating show. Also, they shared updates with fans from time to time.
As the US tour began, ATEEZ made an effort for fans worldwide who could not attend the concert. They are sharing backstage selfies, commemorative photos on stage, and the scenery outside the window seen from the members' perspectives at every performance. So, fans pay attention to every detail. 
Also, after the performance, ATEEZ delivered its impression through the fandom platform. The group, said, "We're not a great person. But, we wonder if there could be anything as good as that if we could make even one person happy."
Particularly, leader Hongjoong said, "Please be curious about every little thing. I am grateful to have just been there, so I will work harder to become a cool person in any part."
It became a hot topic in the Kpop fandom and even earned the modifier 'legend idol.'
ATEEZ, who are meeting with fans worldwide through various methods like this, received attention by announcing sold-out news for each performance after confirming the schedules of the 2022 world tour 'The Fellowship: Beginning of the End.'
Notably, on January 24 (US time), they held a concert at the 'Prudential Center' located near New York, USA. Music media Rolling Stone highly praised ATEEZ's performance, raising expectations for the remaining tour. Meanwhile, on January 27 (US time), Kpop group ATEEZ will hold the Dallas concert for the 2022 world tour 'The Fellowship: Beginning of the End.'
Read More About: ITZY 'BE ORIGINAL' Performance At 'STUDIO CHOOM' Surpassed 50 Million Views
2021 kpop news
,
Ateex_fireworks
,
Ateez
,
ATEEZ Identity 2021
,
ATEEZ Kpop
,
ateez MEMBER
,
ATEEZ members
,
ateez mingi
,
ATEEZ news
,
ATEEZ updates
,
ateez wooyoung
,
ATEEZ X Jongkook Kim
,
ateez_
,
Ateez_Fireworks
,
ateez_jongho
,
ateez_san
,
ateez_seonghwa
,
ateez_yunho
,
best kpop news site
,
breaking news kpop
,
daily kpop news
,
Korean celeb news
,
KPOP
,
Kpop artist
,
Kpop artists
,
kpop ATEEZ
,
kpop celebrity news
,
Kpop chart and news
,
Kpop current news
,
kpop daily news
,
kpop group ATEEZ
,
Kpop idols
,
Kpop latest news
,
Kpop news
,
Kpop news articles
,
Kpop news sites
,
kpop news update
,
Kpop recent news
,
Kpop trending
,
KPop trending news
,
Kpop trending now
,
KPOPIDA
,
KPOPNEWS
,
trending kpop
,
Trending Kpop news
,
trending kpop update
,
trending news