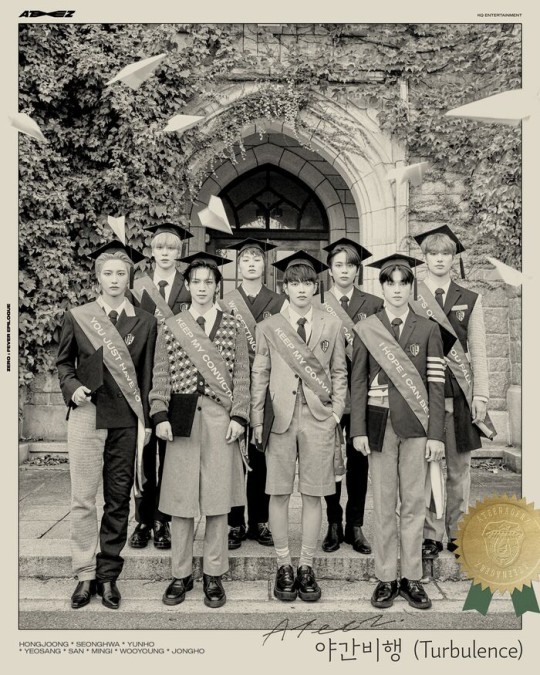 The Kpop group ATEEZ has confirmed its comeback title song. At midnight on November 29, ATEEZ released the title song poster 'Turbulence' of 'ZERO: FEVER EPILOGUE' on their official social media channel.
The released image is a black-and-white graduation photo concept. A paper plane flies over ATEEZ wearing a bachelor's hat and holding a diploma in their hands, creating affection. Notably, different English phrases appeared on the shoulder bands worn by all the members. So, it draws attention to how it relates to this comeback.
It also darkens the atmosphere of the 'Epilogue' against the backdrop of the school that appeared in the album 'ZERO: FEVER Part. 1,' released last year and announced the start of the 'Fever' series.
Remarkably, the text 'Turbulence' below the picture caught the eyes of the fans as it became known as the title song. 'Turbulence,' which means upheaval, further stimulates curiosity about the song.
ATEEZ, which unveiled the title poster of 'Turbulence' following the promotional map, is planning to boost the heat of its comeback with more diverse teaser content.
Kpop group ATEEZ will release 'Zero: Fever Epilogue'at 6 pm on December 10.
Read More About: Kpop Rapper Mirani To Release 'UPTOWN GIRL' On November 30
'The Man of the Pirate King'
,
Ateez
,
ATEEZ members
,
ATEEZ news
,
best Kpop girl group
,
best kpop news site
,
best kpopstar
,
breaking news kpop
,
daily kpop news
,
Dreamers
,
Fandom
,
Fireworks (I'm The One)
,
Korean celeb news
,
Korean singer
,
Korean singer songwriter
,
KPOP
,
Kpop album
,
kpop ATEEZ
,
Kpop beauty routine
,
Kpop boy group
,
kpop celebrity news
,
Kpop chart and news
,
Kpop colllaboration
,
KPOP comeback
,
Kpop current news
,
kpop daily news
,
Kpop fashion
,
Kpop girls group
,
Kpop idols
,
Kpop issues
,
Kpop latest news
,
Kpop music chart
,
Kpop news
,
Kpop news articles
,
Kpop news sites
,
kpop news update
,
Kpop recent news
,
Kpop skin care routine
,
Kpop skincare routine
,
KPop trending news
,
KPOPNEWS
,
Season Songs
,
South Korean singer songwriter
,
the best kpop girl group
,
the best kpop girl group of 2021
,
the best kpop group of 2021
,
the top kpop group
,
top kpop boy group
,
top kpop girl group
,
WONDERLAND
,
Zero: FEVER Part.2