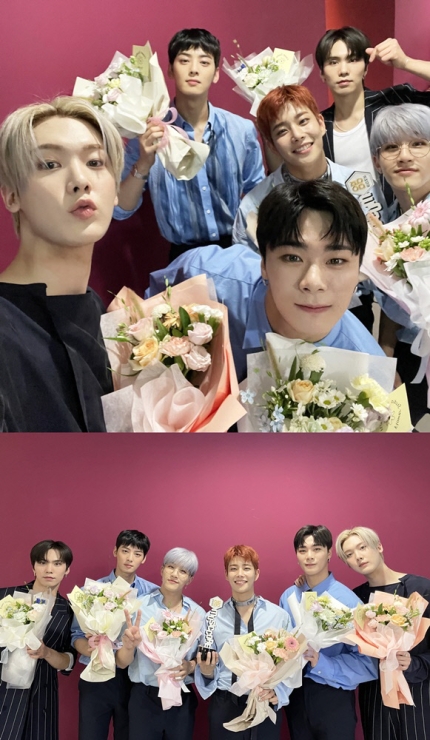 The global Kpop group ASTRO won on four music shows. ASTRO (MJ, Jinjin, Eunwoo Cha, Moonbin, Rocky, Sanha Yoon) appeared on MBC's 'Show! Music Core' and took first place with the title song 'After Midnight.'
Also, they took first place on KBS2 'Music Bank' on the August 13th broadcast.
On this day, ASTRO performed the new song 'After Midnight' following the gentle side track, 'Waterfall.'
They captivated the eyes and ears of fans with their unwavering live and flawless appearance.
Kpop group ASTRO could not hide their emotional expression. Member Eunwoo Cha, who is in tears, said, "We won first place on Music Core for the first time. In fact, as an MC for over a year and a half, I really wanted to call ASTRO as the winner."
Then, ASTRO member Moonbin said, "This is a meaningful award. It's good to receive it at Music Core. I'm very grateful to Aroha and the members."
The youngest, Sanha Yoon, also showed a tearful look, saying, "It's great to win 1st place today. I'm also very grateful to the members."
Earlier, starting with SBS MTV 'The Show,' MBC every1 'Show! Champion,' 'Music Bank,' and 'Show! Music Core,' ASTRO, which became the main character, proved that their new song 'After Midnight' successfully beat the heat of global fans this summer.
Expectations are high on ASTRO's progress, which is showing limitless growth with unstoppable record-breaking achievements.
Read More About: G-Dragon & Jennie: What's The Real Score Between The Two?
astro
,
astro 8th mini album
,
ASTRO comeback
,
Astro members
,
astro new album
,
astro news
,
astro_cha eunwoo
,
astro_switch on
,
KPOP
,
Kpop 2021
,
Kpop artist
,
Kpop artists
,
Kpop Astro
,
Kpop group ASTRO
,
Kpop idols
,
KPOP music
,
Kpop music program
,
KPOP MUSIC SHOW
,
kpop music shows
,
Kpop news
,
kpop shows
,
Kpop trend
,
Kpop trending
,
KPop trending news
,
Kpop trending now
,
kpop trending update
,
Kpop_Astro
,
KPOP2021
,
KPOPIDA
,
KPOPNEWS
,
music bank
,
show! music core
,
Trending
,
trending 2021
,
trending kpop
,
Trending Kpop news
,
trending kpop update
,
trending news
,
trending update kpop