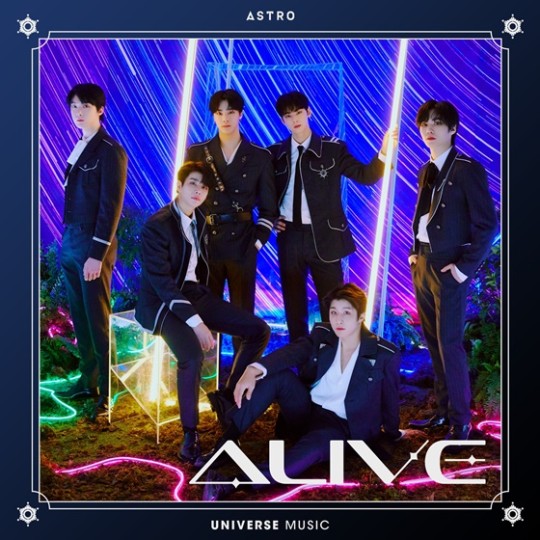 Kpop group ASTRO (MJ, Jinjin, Eunwoo Cha, Moonbin, Rocky, Sanha Yoon) will release a new song through the fandom platform, Universe. On August 23rd, UNIVERSE announced, "On September 2nd, we have confirmed the release of our tenth new song 'ALIVE' together with ASTRO." 
In addition, Universe released the scheduler and cover image of ASTRO's 'ALIVE' through their official social media channel at 6 pm on the same day.
Kpop group ASTRO is expanding its global fandom by expressing its unique sense of entertainment through various web entertainment shows. It includes 'SPACE FORCE A: SECRET GOLDEN BOWL,' short-form variety 'SSAP-DANCE,' and 'Chemi-Mate ZZG.'
Particularly, following universe entertainment, pictorial, and radio, the music is amplifying questions about the concept of ASTRO's new song 'ALIVE.'
Universe music released various songs. It includes IZ*ONE's 'D-D-DANCE' in January, Sumi Jo & Rain's 'Guardians' in February, Jihoon Park's 'Call U Up (Feat. Lee Hi) (Prod. Primary)' in March, (G)I-DLE's 'Last Dance (Prod. GroovyRoom)' in April, Daniel Kang 'Outerspace (Feat. Loco)' and AB6IX's 'GEMINI' in May, CIX's 'TESSERACT (Prod. Hui, Minit),' The Boyz's 'Drink' It,' and MONSTA X's 'KISS OR DEATH' in July. Now, they will release, ASTRO's 'ALIVE' on September 2nd.
Universe has been producing high-quality music and music videos. So, they are gaining global popularity as well as solidifying their position with 'Universe Music' contents that you can trust and listen to.
Fans can enjoy ASTRO's 'ALIVE' through various online music sites at 6 pm on September 2. In addition, the full version of the music video will be exclusively released through the Universe app.
Read More About: Crush, "Thanks To Joy, I Laugh A Lot More"
astro alive
,
ASTRO comeback
,
Astro members
,
astro new album
,
astro news
,
astro_all yours
,
astro_cha eunwoo
,
KPOP
,
Kpop artist
,
Kpop artists
,
Kpop idols
,
Kpop latest news
,
kpop latest updates
,
Kpop news
,
Kpop recent news
,
Kpop trend
,
Kpop trending
,
KPop trending news
,
Kpop trending now
,
kpop trending update
,
KPOP2021
,
KPOPIDA
,
KPOPNEWS
,
latest kpop news
,
latest kpop updates
,
recent kpop news
,
trending 2021
,
trending kpop
,
Trending Kpop news
,
trending kpop update
,
trending news
,
trending update kpop
,
trending updte
,
UNIVERSE MUSIC