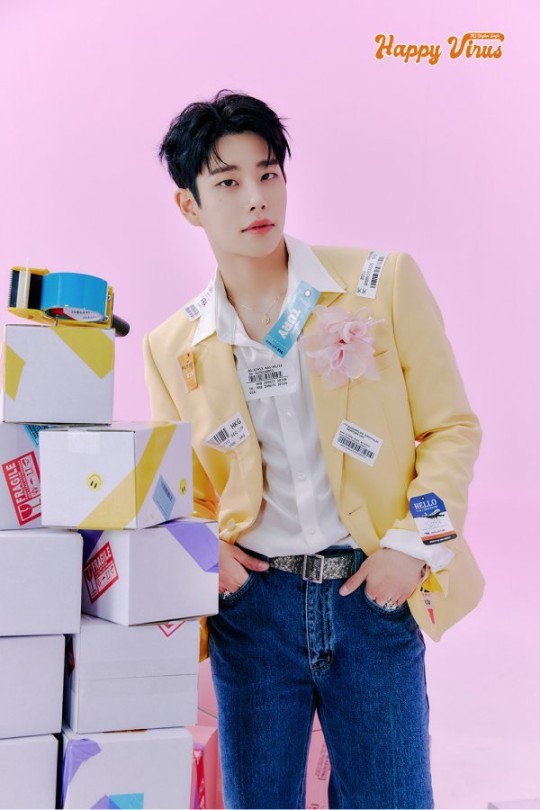 Kpop group ASTRO member MJ unveils the third concept photo of 'Happy Virus,' in which Young Tak participated in the production.
ASTRO member MJ shares happiness with extraordinary excitement.
On the afternoon of October 29, MJ unveils the third concept photo of his first solo digital single 'Happy Virus' and the title song 'Get Set Yo,' through their official social media. He will officially release his first solo single on November 3.
MJ is attractively digesting pastel tones and vivid colors on the concept photo. He showed a casual yet neat feeling with a yellow jacket and denim in the third concept photo. The pink flower brooch point also adds freshness.
Above all, ASTRO MJ's unique cuteness and charm make viewers smile. MJ draws attention by attaching a waybill sticker to the jacket among the parcel boxes. He clearly demonstrates the concept of 'Happy Delivery Service.'
The anticipation for the MJ semi-trot song is rising whenever he releases a concept photo with colorful charms. So, the interest of domestic and foreign fans will surely increase as MJ will release the last remaining concept photo.
ASTRO member MJ makes his solo debut through the title song 'Get Set Yo' and will be active as 'Happy Virus' to everyone. Fans love him for delivering positive energy. So, expectations are high as to what kind of music MJ will share happiness with this time.
Meanwhile, Kpop group ASTRO member MJ will release his solo debut song 'Get Set Yo' on various online music sites on November 3 at 6:00 pm.
Read More About: IU Ranked 1st In The Idol Chart Rankings, Followed By AESPA & BTS
After Midnight
,
astro
,
ASTRO comeback
,
Astro members
,
astro news
,
ASTRO pop-up store
,
best Kpop girl group
,
best kpop news site
,
best kpopstar
,
breaking news kpop
,
daily kpop news
,
Eunwoo Cha
,
Fandom
,
Jinjin
,
Korean celeb news
,
Korean singer
,
Korean singer songwriter
,
KPOP
,
Kpop album
,
Kpop Astro
,
Kpop beauty routine
,
Kpop boy group
,
kpop celebrity news
,
Kpop chart and news
,
Kpop colllaboration
,
KPOP comeback
,
Kpop current news
,
kpop daily news
,
Kpop fashion
,
Kpop girls group
,
Kpop idols
,
Kpop issues
,
Kpop latest news
,
Kpop music chart
,
Kpop news
,
Kpop news articles
,
Kpop news sites
,
kpop news update
,
Kpop recent news
,
Kpop skin care routine
,
Kpop skincare routine
,
KPop trending news
,
KPOPNEWS
,
MJ
,
Moonbin
,
Rocky
,
Sanha
,
South Korean singer songwriter
,
SWITCH ON
,
the best kpop girl group
,
the best kpop girl group of 2021
,
the best kpop group of 2021
,
the top kpop group
,
top kpop boy group
,
top kpop girl group