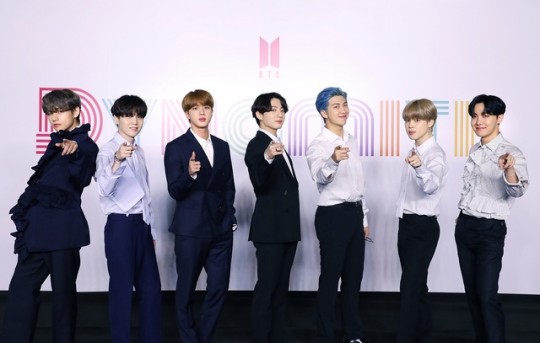 The hit song 'Dynamite' of the Kpop group BTS became the most streamed song on Apple Music this year.
In this year's chart settlement announced by Apple Music on November 30, 'Dynamite' took first place with the most-streamed record in the '2021 Most Streamed Songs' category.
Kpop group BTS released 'Dynamite,' in August of last year. It became the first Korean song to top the US Billboard's main singles chart 'Hot 100.'
In addition, 'Butter,' released by BTS in May, also ranked 21st on the chart. 'Butter' topped the 'Hot 100' 10 times this year. This is the song with the most 'number 1' place on the Hot 100 this year.
2nd place on this chart was 'Driver's License' of Olivia Rodrigo. She is an American rookie singer who competed for first place with 'Butter' on 'Hot 100' for a long time.
In addition, the song that Apple Music listed to the most-streamed songs includes 'Head & Heart (Feat. MNEK)[Tiësto Remix].'
Then, Masked Wolf's 'Astronaut In The Ocean' became the most searched song on the global music search platform Shazam.
Also, The Weeknd became the 'Global Artist of the Year' at the '3rd Apple Music Awards' announced on the same day.
Olivia Rodrigo won three awards by sweeping this year's rookie of the year, album of the year (for her first full-length album 'Sour'), and song of the year (driver's license). This year's composer of the year turns out to be the American singer-songwriter H.E.R.
In addition, this year's Apple Music Awards established the 'Regional Artist of the Year' category. So, it pays attention to artists from five countries and regions (Africa, France, Germany, Japan, and Russia).
They selected singer-songwriter Wizkid in Africa, Aya Nakamura in France, Renato Simunovic in Germany, known under the stage name RIN, and the band OFFICIAL HIGE DANDISM in Japan.
agust d
,
best Kpop girl group
,
best kpop news site
,
best kpopstar
,
breaking news kpop
,
BT21
,
BTS
,
BTS Army
,
BTS BILLBOARD
,
bts butter
,
BTS fancam
,
BTS I'll Be Missing You
,
BTS J-Hope
,
bts jimin
,
bts Jungkook
,
BTS member
,
bts member Jimin
,
BTS member V
,
BTS Members
,
BTS News
,
BTS recent news
,
BTS routine
,
BTS solo songs
,
bts suga
,
BTS trending news
,
BTS UPDATES
,
BTS V
,
daily kpop news
,
Fandom
,
Filter
,
J-hope
,
JIMIN
,
Jin
,
JUNGKOOK
,
Korean celeb news
,
Korean singer
,
Korean singer songwriter
,
KPOP
,
Kpop album
,
Kpop beauty routine
,
Kpop boy group
,
KPOP BTS
,
kpop celebrity news
,
Kpop chart and news
,
Kpop colllaboration
,
KPOP comeback
,
Kpop current news
,
kpop daily news
,
Kpop fashion
,
Kpop girls group
,
Kpop idols
,
Kpop issues
,
Kpop latest news
,
Kpop music chart
,
Kpop news
,
Kpop news articles
,
Kpop news sites
,
kpop news update
,
Kpop recent news
,
Kpop skin care routine
,
Kpop skincare routine
,
KPop trending news
,
KPOPNEWS
,
permission to dance
,
RM
,
Run BTS
,
South Korean singer songwriter
,
SUGA
,
TAEHYUNG KIM
,
the best kpop girl group
,
the best kpop girl group of 2021
,
the best kpop group of 2021
,
the top kpop group
,
top kpop boy group
,
top kpop girl group
,
V
,
weverse magazine