Kpop group Apink member and actress Naeun Son has released pictorial photos. On January 25, PUMA, a global sports brand, announced that they selected Naeun Son as an ambassador for their new campaign.
Regarding the background of Naeun's selection as an ambassador, "Naeun not only has a unique charm and style full of personality, but also expands her territory through endless challenges ranging from singing, modeling, and acting in her 20s to 30s who are facing a new challenge. We selected her as an ambassador because we thought she would give a positive influence."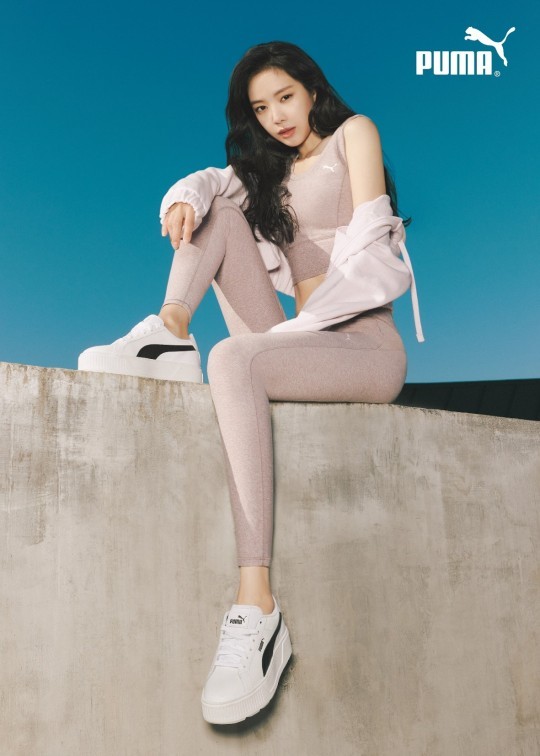 In the pictorial released along with the news, Naeun showed off her slender body. She pulled off the leggings styling that suits her body perfectly.
Naeun Son made her debut as a member of the Kpop group Apink in 2011. In addition to her singing career, Naeun is also prominent in her acting and is also active as an actress.
Meanwhile, Naeun Son appears in the tvN Monday-Tuesday drama 'Ghost Doctor.'
Read More About: CRAXY Confirmed February Comeback With A New Cover Dance Challenge
2022 kpop trending
,
2022 kpop updates
,
2022 latest news
,
APINK
,
Apink 10th Anniversary
,
APINK 2021
,
Apink anniversary
,
Apink bullying issue
,
apink chorong
,
Apink Eunji
,
Apink fan song
,
APINK HAYOUNG
,
apink kpop
,
apink kpop update
,
apink member
,
apink naeun
,
apink news
,
APINK OHHAYOUNG
,
Apink updates
,
Apink_Naeun
,
best Kpop girl group
,
best kpop news site
,
best kpopstar
,
bomi yoon
,
breaking news kpop
,
daily kpop news
,
Eunji Jung
,
Fandom
,
Hayoung Oh
,
Korean celeb news
,
Korean singer
,
Korean singer songwriter
,
KPOP
,
kpop 2022
,
KPOP 2022 NEWS
,
Kpop album
,
KPOP APINK
,
Kpop artist
,
Kpop artists
,
Kpop beauty routine
,
Kpop boy group
,
kpop celebrity news
,
Kpop chart and news
,
Kpop colllaboration
,
KPOP comeback
,
Kpop current news
,
kpop daily news
,
Kpop fashion
,
Kpop girls group
,
kpop group Apink
,
Kpop idols
,
Kpop issues
,
Kpop latest news
,
Kpop music chart
,
Kpop news
,
Kpop news articles
,
Kpop news sites
,
kpop news update
,
Kpop recent news
,
Kpop skin care routine
,
Kpop skincare routine
,
Kpop trend
,
Kpop trending
,
KPop trending news
,
Kpop trending now
,
kpop trending update
,
KPOPIDA
,
KPOPNEWS
,
naeun apink
,
naeun son
,
South Korean singer songwriter
,
the best kpop girl group
,
the best kpop girl group of 2021
,
the best kpop group of 2021
,
the top kpop group
,
top kpop boy group
,
top kpop girl group
,
trending kpop
,
Trending Kpop news
,
trending kpop update
,
trending news
,
trending update kpop