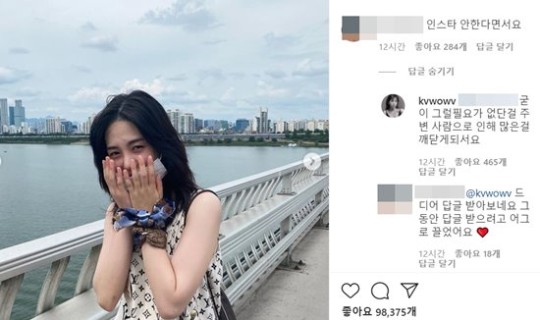 Mina Kwon, a former member of AOA, has revealed her brighter current situation. Recently, she restarted using her social media. It attracts attention as she directly answered the netizen asking why she resumes using social media.
AOA Mina Kwon posted several photos on her Instagram on August 9th with a smiley emoticon.
In the published photo, Mina Kwon went out to a cafe and the Han River. She posed shyly in the Han River wearing a scarf and show her playfulness. In addition, her tattoos engraved on her back caught the attention of fans.
AOA Mina Kwon recently resumed using social media and is reporting her bright current situation. Netizens cheered by leaving comments such as:
"You look happy."
"It's good to see you often."
"I want to see you when you come back."
One netizen asked Mina Kwon, who had stopped using social media, saying, "You don't do Instagram."
So, Mina replied, "I realized a lot of things because of people around me that I don't have to."
Previously, Mina Kwon revealed that AOA leader Jimin Shin bullied her during AOA activities in July of last year. Later on, she communicated with the public by telling various stories through her social media. Many fans congratulated her for revealing that she was recently in a relationship. However, she was caught up in controversy over suspicions of her boyfriend's rumors and false explanations.
In the end, Mina Kwon revealed that she recognized the situation late and broke up with her boyfriend and apologized. However, while opening up to various controversies, Mina Kwon mentioned the members' private lives unrelated to the issue. This caused controversy again. Also, at the time, she declared, "I will not do social media after this live. I will put everything down and self-reflect for the time being."
But, she changed her social media profile and reiterated her intention to explain the controversy surrounding her.
In addition, she apologized for posting a long article expressing her frustration. After publishing the statement, reports said that she made an extreme choice. AOA member Mina Kwon was transported to the hospital due to excessive bleeding and completed an emergency surgery. After regaining consciousness, she resumed social media activities on August 4th and continued to expose herself.
Read More About: Sungwoon Ha Drops 'Strawberry Gum' MV Teaser
AOA
,
AOA BULLYING
,
AOA Jimin
,
Aoa Mina
,
AOA Mina Kwon
,
Aoa News
,
AOA_KPOP
,
AOA_Seolhyun
,
Bulllying MINA
,
Korean celeb news
,
KPOP
,
Kpop AOA
,
Kpop artist
,
Kpop artists
,
kpop bullying issues
,
kpop celebrity news
,
Kpop idols
,
Kpop issues
,
Kpop latest news
,
kpop latest updates
,
Kpop news
,
Kpop recent news
,
Kpop trend
,
Kpop trending
,
KPop trending news
,
Kpop trending now
,
kpop trending update
,
KPOP2021
,
KPOPIDA
,
KPOPNEWS
,
kwon minah
,
latest kpop news
,
latest kpop updates
,
mina Kwon
,
minah kwon
,
recent kpop news
,
Trending
,
trending 2021
,
trending kpop
,
Trending Kpop news
,
trending kpop update
,
trending news
,
trending update kpop